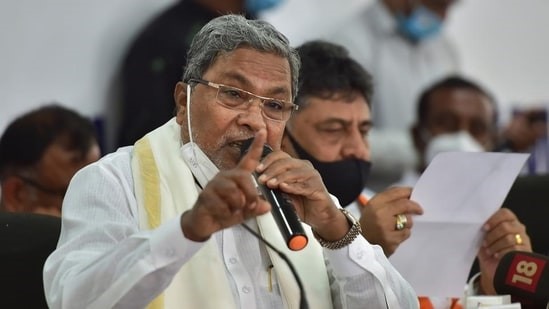 Karnataka CM Siddaramaiah calls BJP 'most indisciplined party'
Karnataka Chief Minister Siddaramaiah on Monday (July 3) said the BJP is yet to elect the leader of Opposition in the Legislative Assembly, and it shows there is "groupism" in that outfit and dubbed it as the "most indisciplined" political party.
"It clearly shows that there is groupism among them," he told reporters in response to a question.
Also read: Karnataka: BJP summons BSY to Delhi amid delay over election of Opposition leader
The BJP calls itself a disciplined party but it's the "most indisciplined party", Siddaramaiah alleged.
The Budget session of the Karnataka Legislature began on Monday with the BJP yet to elect its leader in the lower House.
Also read: '40 per cent commission' scam returns to haunt BJP in Karnataka
The BJP president JP Nadda has appointed Union minister Mansukh Mandaviya and party general secretary Vinod Tawde as central observers for the election.
BJP chief spokesperson and Rajya Sabha MP Anil Baluni said the two central leaders will be visiting the state to oversee the election of the party's leader in the state assembly by its MLAs.
Also read: BJP's post-mortem of Karnataka loss betrays numerous cracks within
Following its loss to the Congress in the state polls, the BJP is yet to elect its leader in the Assembly, with its central leaders weighing their options.
Former chief minister Basavaraj Bommai is one of the contenders as the BJP deliberates to decide whether it should stick to the old guard or put faith in a new leader while balancing the caste equation in the state.
Also read: Why Karnataka Anganwadi workers want to return 64,340 mobiles to govt
In the May elections to the 224-member Assembly, the Congress was swept to power with 135 seats while the BJP won 66 and the JD(S) 19.