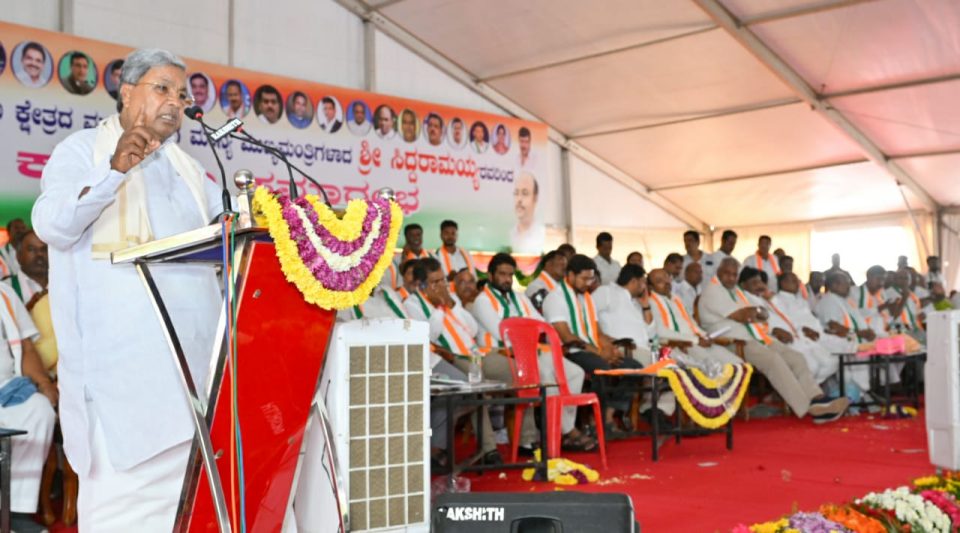 Karnataka CM: Centre trying to scuttle Anna Bhagya free rice scheme
Karnataka Chief Minister Siddaramaiah on Wednesday (June 14) accused the BJP-led government at the Centre of conspiring to "fail" the Congress administration's poll guarantee, by ensuring that the state doesn't get the required amount of rice to implement its Anna Bhagya scheme, which provides additional rice for poor.
Alleging that the Central government was playing politics on the issue, he called it "anti-poor" for trying to "scuttle" the scheme which would benefit the needy.
The Chief Minister also said his government was making all efforts to get rice from other sources and producing states, aimed at supplying it to the needy on time, as promised.
Also read: Surjewala's presence at govt meeting raises a storm in Karnataka; CM clarifies
"The Centre has taken a political decision after agreeing to provide us rice. Based on their Food Corporation of India (FCI) agreeing to provide rice, we had promised to provide rice to the poor from July 1. We cannot get that much rice in Karnataka…now after agreeing to provide rice they are now saying they can't at the behest of the Centre," Siddaramaiah said.
Addressing a press conference in Bengaluru, he said the Central government has taken a political decision not to provide rice to the Karnataka government, as they fear the Congress party earning a good name by implementing the scheme which will benefit the poor.
"The Centre is trying to scuttle the scheme that would have provided another 5 kg of free rice for the poor. The Centre is trying to do politics on this issue. FCI officials had said that they have seven lakh tonne rice stocks, despite that they have backtracked, what is the intention behind it? It is to scuttle the programme. BJP is anti-poor," he added.
Also read: Activists urge Karnataka govt to frame laws against caste-based social boycott
As part of implementing Congress five poll guarantees, the Siddaramaiah government earlier this month decided to roll out the Anna Bhagya scheme, providing a total 10 kg of food grains/rice to every member of a BPL household and Antyodaya card holders every month from July 1.
Five kg of rice is already being given to every member of a BPL household, it is now being enhanced by another five kg by the new government.
The state government is approaching rice-growing states, Siddaramaiah said and added that it has approached Chhattisgarh and Telangana, and he himself has spoken to Chief Ministers there, and Minister KH Muniyappa is going to Telangana tomorrow to "get rice from there".
Also read: Karnataka: Siddaramaiah's big move on caste survey
"We are expecting a response from them, Punjab was also approached, but they are not in the position to help now," he said adding that there is certainly the option of writing or approaching the Centre to reconsider the decision, "but what their intention is, is the question. It is a conspiracy to fail our guarantee."
Targeting the government for not providing rice to the state despite having stocks, the Chief Minister said the rice was not sought for free; it was to be purchased by paying money.
"They are ready to supply to private players, but not to the state government," he said adding that "the Centre has put us into crisis by FCI backtracking after having promised to provide rice. Based on their assurance we had promised to provide rice from July 1."
Also read: CM Siddaramaiah launches free bus travel scheme for women in Karnataka
The Chief Minister said Karnataka in addition to approaching rice producing states, will also try to get rice from National Agricultural Cooperative Marketing Federation of India Ltd (NAFED) and National Consumers Cooperative Federation of India Limited (NCCF) to keep up its promise made to people.
"Even now we will try our level best to provide rice…..if there is delay, it is the Government of India which is responsible for it," he said.
Sharing details of what transpired so far, Siddaramaiah said to give extra five kg of rice we will require 2.28 lakh metric tonne of rice every month. After the Cabinet decision, officials from the state's Food and Civil Supplies Department spoke to FCI officials and they had said they will supply as they have the stock.
Pointing out that as it is an important scheme of the state government, he and Minister K H Muniyappa had personally spoken to the Deputy General Manager of FCI, he said.
The officer had agreed to provide 2.28 lakh metric tonne of rice every month at the rate of Rs 34 per kg plus Rs 2.60 transport charge – total Rs 36.60. This will cost the state government Rs 840 crore per month and Rs 10,092 crore annually, he added.
Noting that after accepting to provide the required quantity of rice, the FCI had sent two letters on June 12 in response to the state government's letter dated June 9, Siddaramaiah said and added that in the letter they had agreed to provide 2,08,425.750 metric tonne of rice for July under Open Market Sale Scheme (Domestic) without e-auction at the rate of Rs 34 per kg. In another letter, they had agreed for another 13,819.485 metric tonne.
Alleging that the Central government took a "political decision", he said on June 13, the Ministry of Consumer Affairs – Department of Food and Public Distribution wrote a letter to FCI stating that "the sale of wheat and rice under OMSS(D) for state governments is discontinued…."
(With agency inputs)