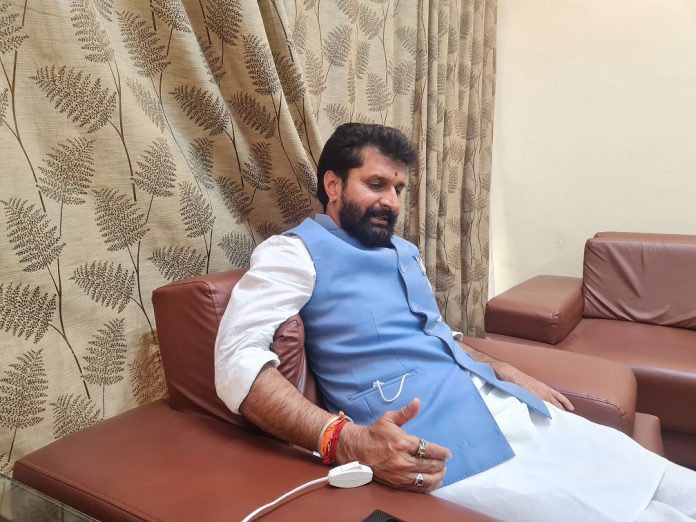 Bharatiya Janata Party's (BJP) Hindutva firebrand CT Ravi has only himself to blame for his defeat in the Karnataka election — at the very hands of one whom he mentored in the art of politics.
As he grew and grew politically, and came to be identified closely with Hindu hardliner BL Santosh, his weakness to trip others very vocally eventually came to haunt him in the assembly battle.
There is no doubt that the MLA, for 29 long years, was popular and enjoyed plenty of clout in the BJP. He was known to be a votary of Hindutva politics and never hid his hatred for minorities, particularly Muslims.
Also read: Karnataka: Lingayats, Muslims seek CM, Deputy CM, plum ministerial posts
As a consecutive four-time MLA from Chikmagalur, he became a minister in the BS Yediyurappa government.
Ravi became the National General Secretary of the BJP and was put in charge of the Tamil Nadu region.
Penchant for insults  
This was also the period when people realised that he could be a loose cannon.
His penchant for calling JD(S)-turned-Congress leader Siddaramaiah "Sidramullah Khan" and for branding Congress veteran DK Shivakumar a follower of a notorious rowdy in Bengaluru in the early 1980s did not endear him at large.
He also allegedly insulted the family of former prime minister HD Deve Gowda. "If I was in JD(S), I would have said 'Jai to Dodda Gowda' (HD Deve Gowda), 'Sanna Gowda' (HD Kumaraswamy) and 'Mari Gowda' (Nikhil Kumaraswamy). I joined the BJP and became MLA and reached the top position in the party."
On another occasion, he told Deve Gowda: "Why are you delaying being born as a Muslim?" It not only hurt Deve Gowda's family but caused revulsion across Karnataka.
Also read: Increasing Lingayat reservations backfires for BJP; Congress wins 60 seats in N Karnataka region
No wonder, both the Congress and JD(S) decided to teach him a lesson in the May 10 election.
If all this wasn't enough, Ravi played a key role in the rebellion that forced Lingayat leader BS Yediyurappa of the BJP to resign as the chief minister. He was said to be acting according to the instructions of BL Santosh. His speeches and actions did not go well with the Lingayats in his constituency.
Ravi's negativity
Ravi's diatribe against Siddaramaiah also upset the Kuruba and other backward-class voters who were earlier supporting him. At the same time, the Muslims voted in large numbers for the Congress, undoing him further.
Ravi's repeated anti-Muslim statements on a variety of issues took his focus away from development. It made his constituency underdeveloped in terms of basic facilities, including roads and drinking water in rural areas. These worked against him, said Sheshagiri Shastry, a coffee planter and BJP activist from Chikmagalur.
Also read: Karnataka polls: List of BJP ministers who lost
So, all the caste and emotional factors worked against the seemingly invincible Ravi. It also worked against the BJP in the whole district, and so, all the five constituencies there went to the Congress.
The Congress simply poached Ravi's aide and BJP worker HD Tammaiah and fielded him as a Congress candidate. Tammaiah, a Lingayat leader, succeeded in gaining the Lingyat votes. Tammaiah had been with Ravi for 20 long years and learnt politics from him. He knew all the tricks of the trade. It is said that Ravi saw his defeat coming.
JD(S) role
Experts say that JD(S) MLC Bhoje Gowda had a role in Ravi's defeat. Thimma Shetti, who was given the JD(S) ticket, gave a speech on the panchayat board saying though he was a JD(S) candidate, people should vote for Congress. Bhoje Gowda also worked against Ravi using his influence in the constituency. HD Kumaraswamy was said to be interested in defeating Ravi as the JD(S) did not want another Vokkaliga leader (Ravi) to become powerful in the state.
BJP insiders say if only Yeddiyurappa had visited Chikmagalur once, Ravi would have won. Also, no star campaigner came to the district.
Also read: BJP state chief alleges 'Talibanisation' in Karnataka after party worker's murder
Ramachandra Gowda, a BJP leader from Chikmagalur, said anti-incumbency factors also worked. The middle class and lower middle class suffered from price hike, unemployment; all these went against the BJP. Most importantly, the Lingayats consolidated behind Tammaiah of the Congress while the Vokkaliga votes splintered.
Ravi got 55,678 votes against his friend-turned-foe Tammaiah, who bagged 64,552 votes. Tammaiah became the second Lingayat MLA from that constituency after CMS Shastry who won in 1967.
Ravi maintains this is a personal loss but not a defeat for the Hindutva ideology. "We will introspect and rectify mistakes," he told The Federal.