Karnataka, after Maharashtra, is the top state as far as the creation of formal jobs is concerned. About 49.5 per cent of new white-collar jobs are going in the state to youngsters between the age group of 18-25, according to a recent study by Federation of Indian Chambers of Commerce and Industry (FICCI).
According to the report, that analyses trends in the formal job sector in India and Karnataka, there are an estimated 67.9 lakh formal jobs in the state and 33.6 lakh people in the age group of 18 to 25 are in formal jobs in Karnataka.
Also read: Unemployment in India hits 16-month high of 8.3% in December
At the national level, it is estimated that out of 57 crore people who are in the workforce, 20 per cent (11.4 crores) are in the formal job sector. It includes 6.8 crore EPFO (Employees' Provident Fund Organisation) subscribers, 2.07 crore unique ESIC (Employees State Insurance Corporation) subscribers and 2.5 crore government employees.
Formal jobs
The largest number of formal jobs created in the private sector are under the 'expert category' — manpower agencies, private security agencies, small contractors. Building construction and manufacturing sectors come next.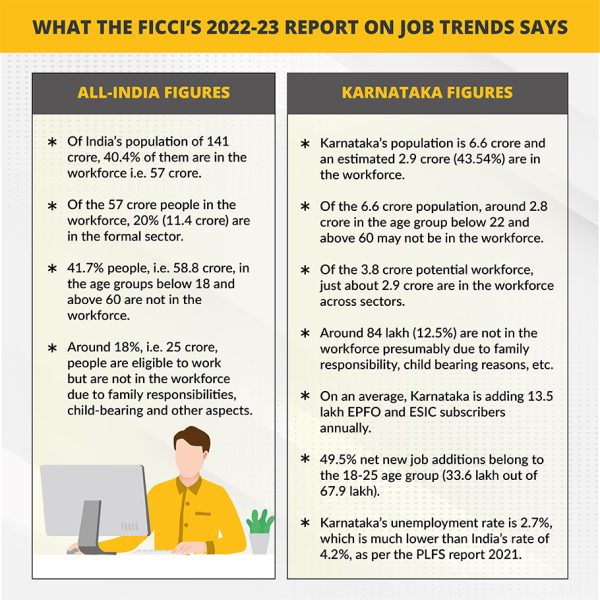 In the last five years till 2022, new EPFO additions are 6.2 crores. Maharashtra, Karnataka, Tamil Nadu, Gujarat and Haryana account for 60 per cent of these formal job additions.
Formal jobs consist of mainly white collared jobs, the major portion of which include clerical staff, supervisors, managers and security guards. The portion of formal jobs in the government sector is around 20 per cent and others are created in the private sector.
These are the findings in the FICCI's 2022-23 report that analysed job trends. The report, submitted to Karnataka Chief Minister B Bommai recently, was jointly prepared by FICCI Karnataka State Council and Quess Corp, Bengaluru.
Shaju Mangalam, Director of FICCI's Karnataka State Office, said Karnataka is a place with resources and attracts global investors. This, he said, is the reason behind the surge in creation of formal jobs in the private sector which is helping youngsters to join the workforce.
Karnataka figures
The FICCI report, quoting Periodic Labour Force Survey (PLFS) report of 2021, said the unemployment rate of Karnataka is 2.7 per cent which is much lower than all-India rate of 4.2 per cent.
Karnataka's population is approximately 6.6 crores and an estimated 2.9 crores (43.54 per cent) are in the workforce. Of the total population, around 2.8 crores, which are in the age group below 22 and above 60, may not be in the workforce.
This means that of the remaining 3.8 crore potential workforce, just about 2.9 crores are working across sectors. Around 84 lakh people, that is 12.5 per cent, are not in the workforce presumably due to family responsibilities and childbearing reasons. Of the 2.9 crore working population, 1.3 crores (46.6 percent) are in the agriculture sector (informal) and 1.5 crores (53.4 per cent) of them are engaged in non-agriculture sector jobs.
EPFO, ESIC data and an estimation of government employees show that of the total working population, 73.8 lakh (24.7 per cent) are in the formal sector. This is 4.7 per cent higher than the national average of 20 per cent formal sector jobs. Moreover, Karnataka has added 67.9 lakh net new formal jobs in the last 5 years, the second highest after Maharashtra (1.2 crores).
The report points out that while Karnataka has 4.7 per cent of India's population, but the state adds 10.4 per cent of the formal jobs under EPFO payroll. Karnataka added 15 lakh jobs under EPFO in 2021-22 — the highest compared to the previous four years – signalling an increase in formal jobs.
In Karnataka, formal job creation and EPFO net new job additions increased from 94.5 lakhs in 2020-21 to 1.3 crores in 2021-22. Also, 49.5 per cent of formal jobs were mostly first-time jobs going to the 18-25 age group.
All-India figures
Of India's total population of 141 crores, 57 crores (40.4 per cent) are in the workforce. Around 25 crores (18 per cent) of people are eligible to work but are not in the workforce due reasons ranging from family responsibilities to child-bearing and other aspects, the report says.
Also read: Kerala's educated unemployment rate worrying; J&K only parallel: Tharoor
Nearly 58.8 crore (41.7 per cent) people below 18 and above 60 and are not in the workforce.
Moreover, 7.6 crore members registered with the ESIC in the last five years.
Women workforce
As per the report, over 20 per cent of the women are in the formal workforce in India. This has increased from 20.9 per cent in 2018-19 to 26.3 per cent in 2022 as per the data available with the EPFO.