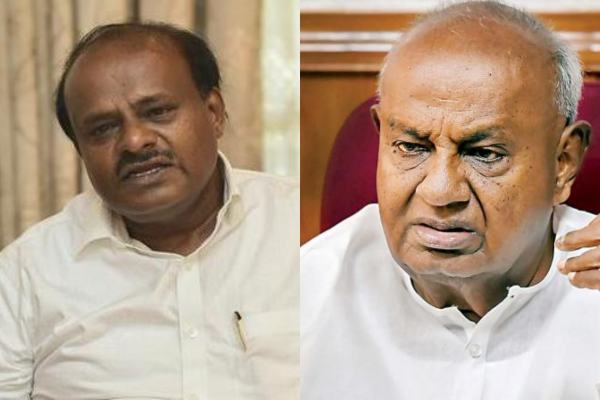 The exit polls on Karnataka which gives around 18 seats to the BJP and the remaining 10 to the Congress-JD(S) alliance, if it actually turns out true, will confirm a view that the coalition partners made a hash of a good situation.
To begin with, the coalition saw itself at an advantage having managed to take over the government after the 2018 Assembly elections. However, when the time for seat sharing came about, tricky issues cropped up.
While the Congress wanted the Mandya seat and nominated actor Sumalatha, the wife of the late film star Ambareesh, the JD(S) insisted on nominating Chief Minister HD Kumaraswamy's son Nikhil Gowda, a political greenhorn. This caused friction between the two which continued even during campaigning. Sumalatha who contested as an independent backed by the BJP was supported by a section of the local Congress workers, which buoyed her chances of winning.
More importantly, the tussle in Mandya cast a shadow across the alliance. In Mysore where former chief minister K Siddaramaiah wanted his nominee to win, the JD(S) retaliated by not fully supporting his candidate.
Meanwhile, the JD(S) and the Congress, who are traditional rivals in Karnataka found it difficult to move as one unit. The exit polls, if they are true, indicates that the alliance partners have indeed paid a heavy price.
For, on paper, the JD(S)-Congress combination was seen as a winner given the vote share of the two parties in the state. What the exit polls also indicate is that the bonhomie on top between the JD(S) leader and former prime minister HD Deve Gowda did not percolate to the grass roots where the rivalry is intense. And, the BJP used the differences between the alliance partners possibly with help from both to come out on tops.
If the exit polls get validated on May 23,  the coalition may also not  survive as there is bound to be a round of blame game, recriminations and accusations among the alliance partners. Already the BJP, just nine seats short, has been pressuring the alliance with threats of poaching legislators. On May 23, the way for the BJP will get that much smoother.