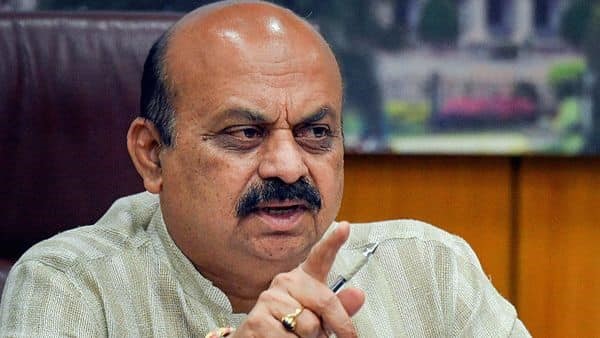 Contractor suicide: Congress itself Gangotri of corruption, says Bommai
With the Congress demanding the sacking of Karnataka minister KS Eshwarappa over the suicide of a contractor, Chief Minister Basavaraj Bommai in a scathing rebuttal on Thursday, said that the party had no moral right to protest as it itself is a "Gangotri of corruption".
Gangotri, from where River Ganga originates, if often used as a metaphor to describe the extent and enormity of a phenomenon –corruption in this context.
"Congress people don't have any moral rights to protest. There is an ample number of murders taking place and lots of violence. Congress is the Gangotri of corruption. Therefore, they don't have any right to say anything about this and they don't have any moral right to protest. Let them protest," Bommai said.
The body of 40-year-old Santosh Patil, a contractor, was found in a hotel in Udupi on Tuesday in a suspected case of suicide. In a WhatApp message that went viral after his death, Patil had accused state Rural Development and Panchayat Raj minister Eshwarappa and his associates of driving him to suicide by not releasing payment of over ₹4 crore for road work carried out in Hindalga region in Belagavi.
While police have filed a case of abetment to suicide against Eshwarappa and his aides Basavaraj and Ramesh, the Congress in Karnataka has been demanding Eshwarappa's resignation and arrest. The Congress has also submitted a letter to Governor Thawar Chand Gehlot in this regard.
Congress leaders including state chief DK Shivakumar and former chief minister Siddaramaiah were detained by police while marching towards the chief minister's residence to demand Eshwarappa's resignation.
Stating that the post-mortem was conducted on Wednesday and the initial probe is underway, Bommai said his government will take a call once the investigation report is out.
"Once we get the enquiry report, then we will know what to do and what not," he said.
Eshwarappa, however, has refuted the charges against him and said that he has never seen or met Santosh.
He has also refused to tender his resignation.
"I have never seen or met this person. The letter was written to the Centre…There is no question of payment. Our department informed the Centre as well," India Today quoted him as saying.