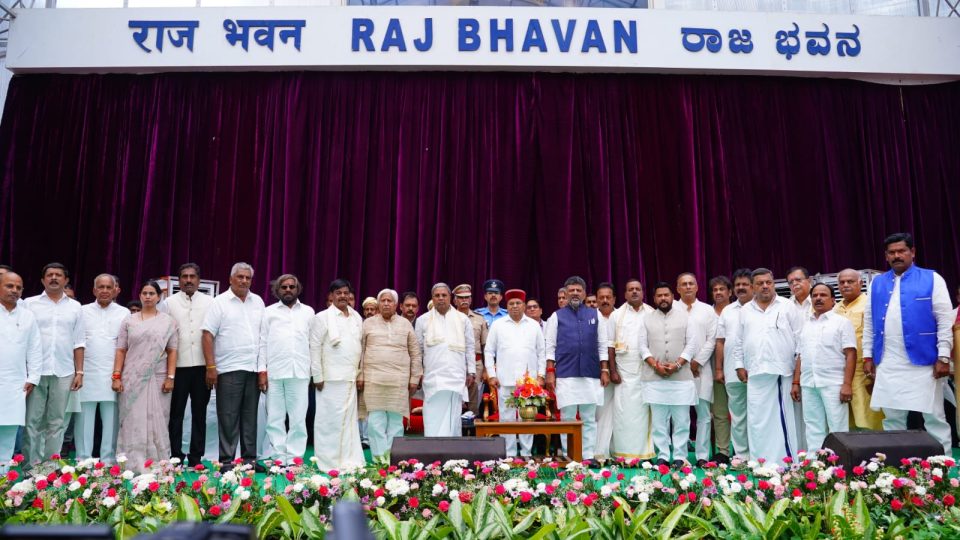 Congress strikes delicate caste-regional balance in new Karnataka ministry
The new Siddaramaiah government, with all 34 berths filled now after the induction of 24 ministers on Saturday (May 27), gives out the message of "inclusiveness" loud and clear.
Besides upholding the mantra of social justice, the new dispensation has given equal importance to all communities that supported the Congress in the elections.
Major communities covered
Among the newly elected MLAs, 39 are Lingayats, 21 Vokkaligas, 22 Scheduled Castes, 15 Scheduled Tribes, three Brahmins, nine Muslims, one Jain, one Christian, eight Kurubas, five Idigas (Billavas), and one each from the Kodava, Balija, Besta, Rajput, and Uppara communities.
The Lingayat community — including Ishwar Khandre, Lakshmi Hebbalkar, Shivananda Patil, MB Patil, SS Mallikarjun, Sharan Prakash Patil, Darshanapur, and HK Patil — has got eight ministerial berths. Almost all its major sub-sects — Panchamasali (3), Koodu Vokkaliga, Sadar, Reddy Lingayat, and Banajiga Lingayat — have been accommodated.
Also read: Karnataka Cabinet expansion: Know about all 24 ministers
Five ministers, including Deputy Chief Minister DK Shivakumar, are from the Vokkaliga community. Nine ministers belong to the Dalit community, including both SC (Left) and SC (Right). Three ministers are from the Scheduled Tribe community.
Six ministers — including Chief Minister Siddaramaiah — represent the Backward Classes, comprising Kuruba, Billava (Eediga), Raju, Besta, and Maratha communities. Even minor backward classes like Rajus, Besthas, and Marathas have been considered.
Muslims have been awarded with two ministers and the Speaker's position for UT Khader for their mass support to the Congress. Other minority communities, including Jains (D Sudhakar), and Christians (KJ George) have also been given one ministerial berth each.
Regional equations
While observing social justice in the selection of ministers, Siddaramaiah has been careful not to ignore regional justice either. The districts of Kittur Karnataka and Kalyana Karnataka have got due representation. The representation of Malnadu, Mysore Karnataka, and Madhya Karnataka offset the caste calculations as well.
Resentment had been simmering among many communities the previous BJP regime had ignored. But Siddaramaiah has managed to strike a balance by inducting both senior and junior MLAs to the Cabinet and yet take care of caste and regional representation besides social justice.
The coastal districts of Dakshina Kannada and Udupi are conspicuous by their absence in the ministry but that has been made up by a Constitutional position in the form of Assembly Speaker. The Congress won only two seats among the 13 in the two districts. UT Khader won from Mangalore, while Ashoka Kumar Rai won the Puttur seat.
The five-time MLA Khader has become the Speaker of the State Assembly,  also the first Muslim to be nominated and elected for that position. There are two members of the Legislative Council from this region — Manjunath Bhandari and Harish Kumar — but they are not in the ministry.
Also read: Karnataka cabinet: Cong's caste, region-wise balancing act; 24 take oath as ministers
Both communally sensitive districts have a large BJP support. These are also the education and industrial hubs of the state.
Except for the Kodagu region, all others have been included in the ministry. Kodagu district, where Congress bagged two seats in traditional BJP bastions, has no representation. Nine other districts, including Chikamagaluru (where all five MLAs are from Congress now), and former CM Basavaraj Bommai's home district Haveri have found no representation in the Cabinet.
Senior leaders like BK Hariprasad and RV Deshpande have also not been given a Cabinet berth. Hariprasad represents the Billawa community, while Deshpande is a Brahmin. But their respective communities have been represented by Madhu Bangarappa and Dinesh Gundu Rao respectively.