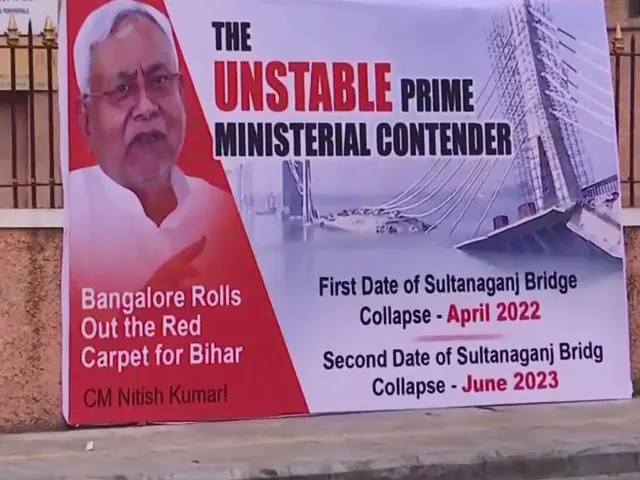 BJP, Congress spar over posters targeting Nitish Kumar amid big Opposition meet
The BJP in Bihar on Tuesday accused the Congress of putting up posters in Bengaluru defaming Chief Minister Nitish Kumar.
The Congress hit back saying it was the BJP which indulged in "posterbaazi" and claimed that the saffron party, which had secured a brute majority in last Lok Sabha polls despite a small vote share, was in a state of desperation over Opposition unity.
The posters, which described Kumar as an "unstable PM contender" and blamed his government squarely for a recent bridge collapse, were put up in the vicinity of the venue of the Opposition meet.
Also read: Bihar: BJP trying to rope in smaller parties to take on Nitish-Lalu combine in 2024
Bihar BJP president Samrat Choudhary came out with a statement alleging "it seems to be the handiwork of the Congress, which rules Karnataka, though it may not admit the same since it is an ally of Nitish Kumar".
#WATCH | Karnataka | Ahead of the second day of Opposition leaders' meeting in Bengaluru, posters and banners targetting Bihar CM Nitish Kumar were put up at Bengaluru's Chalukya Circle, Windsor Manor Bridge and on the Airport road near Hebbal. pic.twitter.com/y6wCro7SXF

— ANI (@ANI) July 18, 2023
Choudhary said Nitish Kumar's "prime ministerial ambitions" were an eyesore for the Congress which wanted to project Rahul Gandhi. He also blamed Nitish who had quit the NDA and joined the Mahagathbandhan a year ago for "bringing upon himself his own humiliation".
However, senior Congress leader and AICC media panelist Prem Shankar Jha debunked Choudhary's allegation and said "it is the BJP which indulges in posterbaazi to defame its opponents and create fissures in alliances opposed to it".
Also read: Patna conclave done, Nitish now faces mega challenge of keeping Opposition together
"The BJP is in a state of desperation over the way a united Opposition is taking shape. In Patna, more than a dozen parties had taken part in the Opposition meet last month. The number has risen to 26 in Bengaluru," Mishra told PTI.
"The BJP won a majority in 2019 by securing 38 per cent of the votes. This was because the remaining 62 per cent was scattered. With more and more parties opposed to the BJP coming together, and given the saffron party's poor governance track record, it finds the next Lok Sabha polls an uphill task," Mishra claimed.
Notably, no individual or organisation has claimed ownership for the posters which were removed by the administration in Bengaluru before the Opposition conclave began.
(With agency inputs)