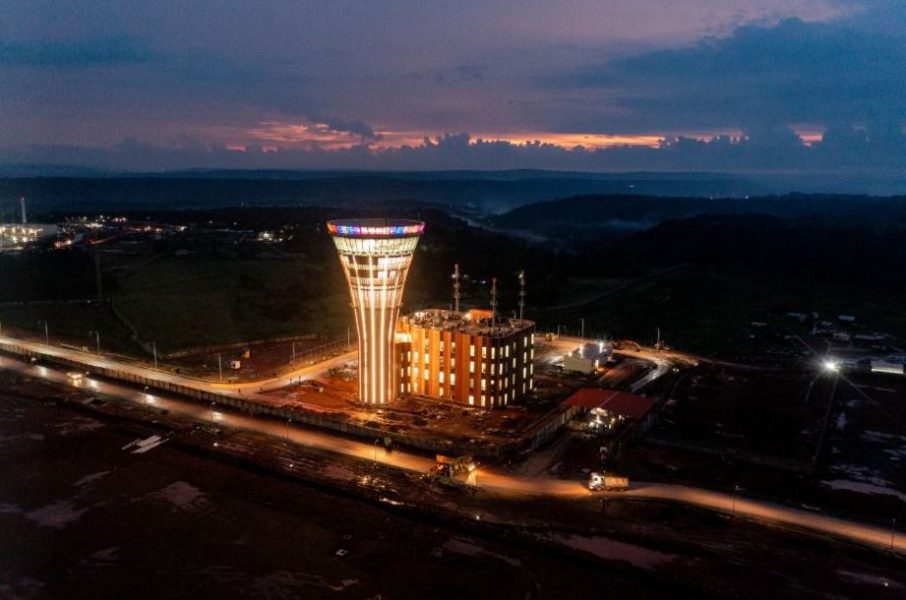 First flight lands at Goa's Manohar International Airport in Mopa
The first passenger flight landed at the Manohar International Airport in Goa from Hyderabad on Thursday, marking the commencement of operations at the new facility in the coastal state. It is Goa's second international airport after the one at Dabolim.
Chief Minister Pramod Sawant said it was a "big achievement" for the state and the Centre.
The IndiGo flight from Hyderabad, carrying 179 passengers, landed at 9 am at the new airport located at Mopa in North Goa district, airport officials said.
Also read: India to add 80 more airports in 4-5 years: Civil Aviation Ministry
Union Minister Shripad Naik, who is the parliamentarian from North Goa, CM Sawant, and state Tourism Minister Rohan Khaunte welcomed the passengers at the terminal building of the airport. A live band welcomed the passengers outside the airport.
With the Mopa facility, Goa has got its second international airport. It is located 50 km from the South Goa-based Dabolim facility, operated as a civil enclave in the Indian Navy's air station, INS Hansa.
"This is a big achievement for the state and central governments. Goa has two airports from today," the chief minister told reporters outside the airport.
Also read: Chaos at airports: A result of meaningless metrics and force-fit solutions
Sawant said 11 flights would arrive at the new airport on Thursday. Another IndiGo passenger flight — to Hyderabad — was the first to depart from the new airport, sources said.
Naik and Khaunte presented symbolic dummy boarding passes to the passengers who left by that flight. Khaunte said the new airport will provide impetus to tourism growth in the state.
Prime Minister Narendra Modi inaugurated the first phase of the new airport on December 11, 2022.
Also read: BLR Metaport: Bengaluru Airport T2 to be one of the first on metaverse
The airport has been named after the late Manohar Parrikar, former defence minister, who had also served as the chief minister of Goa.
The first phase of the Rs 2,870-crore Mopa airport project will cater to around 4.4 million passengers per annum (MPPA), which can be expanded to a saturation capacity of 33 MPPA, an official said earlier.
Moreover, the airport has been built on the theme of sustainable infrastructure and has a solar power plant, green buildings, LED lights on the runway, rainwater harvesting, and a state-of-the-art sewage treatment plant with recycling facilities, among others.
It has also adopted some of the best-in-class technologies like 3-D Monolithic Precast buildings, StabilRoad, Robomatic Hollow precast walls, and 5G compatible IT infrastructure.
(With agency inputs)