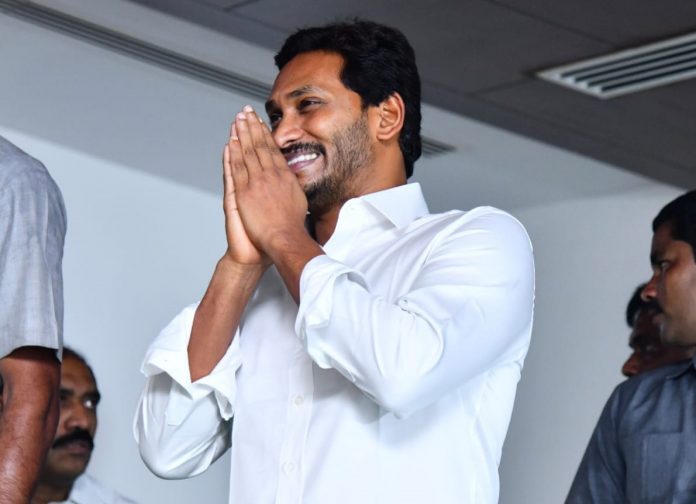 During 'Krishna Pushkaralu' (festival of river Krishna celebrated once in 12 years) in August 2016, the YSR Congress Party President YS Jagan Mohan Reddy, a devout Christian, took the holy dip at one of the river ghats near Vijayawada. A video footage showing him wearing a cross around his neck while taking the dip went viral on the social media and became a discussion point about his religious belief.
In a way, this syncretic blend of two distinct religious symbols — a cross and a holy dip — defines the uniqueness of his family hailing from an influential Reddy community in the Rayalaseema region of Andhra Pradesh.
At a time when there is a growing trend of belligerent assertion of right wing exclusivism, such seamless assimilation of different religious rituals and practices may appear unconventional and thereby evoke public curiosity.
Bible and Vedic hymns
"I pray and read my Bible. It is for God to decide," was how a triumphant Jagan had responded recently when asked about his acrimonious exit from Congress nearly a decade ago and whether he felt vindicated now in the wake of decimation of the grand old party.
When he assumed office at the state secretariat in Amaravati on June 8 at 8.39 am, the muhurat set by Swaroopanandendra Swami of Visakha Sarada Peetham, he made it a point to seek blessings from Vedic scholars before clearing the first file.
"I see no contradiction in this. I have known YSR's family for decades and they have equal respect for all religions. It happens in a very natural way and we never even talk about it," says B Karunakar Reddy, a close friend of Jagan's family and a former chairman of the Tirumala Tirupati Devasthanams (TTD), an autonomous body which manages the affairs of Tirumala temple.
A few days after Jagan steered his party to a landslide victory in the April 11 Assembly polls, bagging 151 seats in the 175-member Assembly, a few Facebook users shared some old videos of him performing 'homam' and other rituals at Rishikesh and claimed that he has been 'reconverted to Hinduism'.
Jagan has been an ardent devotee of Swaroopanandendra swami and the footage pertains to a special puja that he had performed in Rishikesh on August 10, 2016, for the welfare of people and to pray for Special Category Status (SCS) for Andhra Pradesh.
After taking oath as Chief Minister, Jagan flew down to Visakhapatnam to seek the blessings of the seer. In an extraordinary gesture, the pontiff walked up to the Chief Minister, held his hands and blessed him. Jagan also undertook a thanksgiving pilgrimage to various places of worship including Tirumala temple and the Kanaka Durga Temple at Vijayawada. "My election manifesto is my Bible and Gita. I will strive to fulfil the promises made to the people with utmost sincerity," the Chief Minister said.
Family of mixed faiths
Jagan's critics point out that his temple hopping stems more from political compulsion and the need to demonstrate his respect for Hindu rituals to gain wider acceptance. "Of late, one finds him being overtly Hindu, sporting tilak and seeking blessings from the seers and saints. He appears to be demonstrating this more out of a political compulsion to get closer to the BJP leadership. He needs the Centre's support not only to tide over the financial crisis in the state but also to bail him out in the corruption cases," K Ramesh Babu, a political analyst, said.
Jagan comes from a family of politicians who virtually rule the roost in Kadapa district of Rayalaseema region, notorious for faction violence. His great grandparents had embraced Christianity.
Jagan's mother YS Vijayamma, wife Bharathi and sister Sharmila are never seen accompanying him to the temples or participating in Hindu rituals. They are devout Christians. Sharmila is married to P Anil Kumar, a Brahmin who converted to Christianity post-marriage and is now a popular evangelist. By and large, the women in the YSR family are practicing Christians while the men have mixed faiths.
Vijayamma, who was elected unopposed to the Assembly from Pulivendula in the December 2009 by-election following the death of her husband in a helicopter crash, used to carry bible in her hands while addressing public meetings. She had unsuccessfully contested from Visakhapatnam Lok Sabha seat in 2014. One of the reasons attributed to her defeat, at the hands of BJP candidate K Hari Babu, was her 'overt demonstration' of Christian identity.
Syncretic culture
Jagan's father and former Chief Minister of combined AP YS Rajasekhar Reddy was a devout Christian too. However, it never deterred him from visiting the temples. He used to pay regular visits to Tirumala temple. YSR, as he was popularly known, was the most charismatic Congress leader who steered the party to power for two successive terms in 2004 and 2009 and was credited with contributing highest number of MPs from AP to the UPA's kitty in both the terms.
"It is unfair to restrict our family to a straitjacketed identity, be it Christian, Hindu or Reddy community. We have inter-faith and inter-caste marriages in our family," YSR had once declared on the floor of the Assembly.
His tenure was also rocked by a controversy over the alleged evangelical activities at Tirumala where propagation of other religions is not allowed.
Controversy over choice of TTD chief
Ever since the reports surfaced early this week that the Chief Minister has decided to appoint his uncle YV Subba Reddy as the chairman of Tirumala temple board chairman, the right-wingers had a field day on the social media questioning his credentials.
The outrage stemmed from the fake news propagated by some media outlets that Subba Reddy is a converted Christian.
Subba Reddy is married to Vijayamma's sister Swarna. Both the husband and wife are devout Hindus. Vijayamma's two brothers are also known be devout Hindus. One of them is Ravindranath Reddy, the MLA from Kamalapuram. Among her side of the family, only Vijayamma practises Christianity.