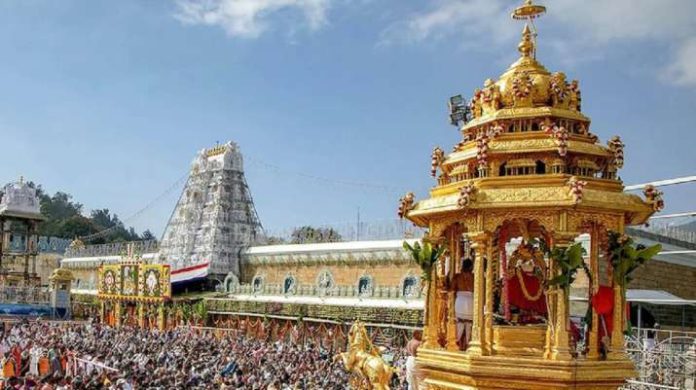 At least three people have been injured in a stampede-like situation at the Tirumala temple in Andhra Pradesh's Tirupati.
Speaking to ANI, TTD PRO Ravi Kumar said, the stampede broke out at the ticket counters of the shrine, where around 10,000 people had amassed to get Sarvadarshan tickets.
Visuals of the incident, circulating on the internet, show people jostling for space in the crowd and children crying with the police trying to bring the commotion under control.
"There was a huge rush at three token counters in Tirupati. However, looking at the rush, the Tirumala Tirupati Devasthanams (TTD) decided to allow pilgrims directly into the compartments of Tirumala for darshan. The situation is normal now," he said.
The TDD has now cancelled to VIP darshans till Sunday.
TDP leader N Chandrababu Naidu has criticised the state government over the incident, accusing it of only interested in making money out of places of pilgrimage.
"Treating Tirumala only as a source of income, devotees were neglected in small matters like darshan and accommodation…TTD should wake up immediately and take corrective action," Naidu said.
TTD chairperson YV Subbareddy, however, has claimed that police were prompt in bringing the crowd under control and asserted that there was no stampede-like situation.
"There was an unexpected rush today. Within one hour, our officers tended to the situation and devotees were shifted to Tirumala compartments. In a day, over 80,000 devotees can have darshan at Tirupati. Today there was unexpected rush, hence there was crowding. Now, everyone has been shifted to Tirumala queue and the situation is under control," India Today quoted Subbareddy as saying.