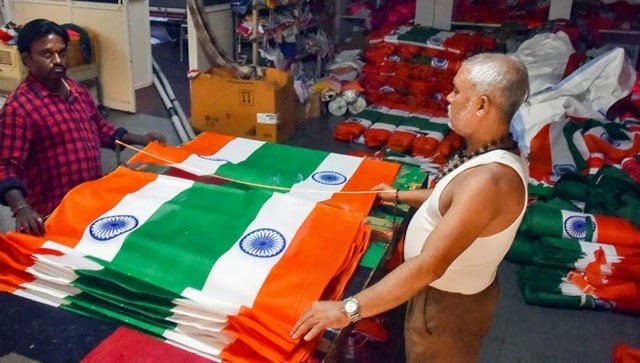 UP: Postal dept sells national flags to promote 'Har Ghar Tiranga' campaign
The postal department has started selling national flags at all post offices in Uttar Pradesh to help promote the Har-Ghar Tiranga campaign 2.0 under the Azadi ka Amrit Mahotsav that marks 75 years of Independence.
"The Tricolour is the identity of every Indian and the campaign to hoist the flag through the Har Ghar Tiranga Abhiyan that began last year continues this year through Har Ghar Tiranga Abhiyan 2.0," postmaster general, Lucknow (HQ) region, Vivek Kumar Daksh, said.
Also read: J-K: BJP hits out at Mehbooba Mufti for making remarks on national flag
"To make it a success, we have started selling national flags at post offices to motivate people to participate in the government's Har-Ghar Tiranga campaign," he added.
The department on August 1 started selling national flags, measuring 20 inches by 30 inches, and priced at ₹25 each.
Also read: Privacy concerns over geotagging of 6 crore Indians on Har Ghar Tiranga site
"We have received positive responses from the public and have seen a rise in demand for flags. We are making all efforts to ensure their availability at every post office, including those located in rural pockets," said the officer.
One can also order the national flag online on the postal department portal and get them delivered at home. The officer said one can order a maximum of five flags online and receive them with no extra delivery charges.
Also read: TN: Tribal woman panchayat president to hoist national flag at office for 1st time
Programmes to make people aware of the initiative are also being organised by the postal department at the General Post Office, Lucknow, and other post offices.
The postal department sold 13 lakh national flags in Uttar Pradesh last year during the Har Ghar Tiranga campaign, the officer added.