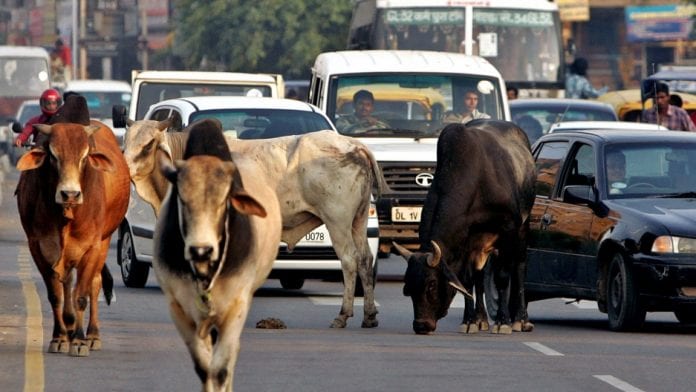 The Uttar Pradesh government has withdrawn a controversial order directing junior engineers from the Public Works Department (PWD) to corral stray cattle that were roaming on the roads, ahead of Chief Minister Yogi Adityanath's visit to Mirzapur district on Wednesday (January 29).
Mirzapur district administration has said it will look into why the orders were given in the first place.
A one-page government order signed by an executive engineer said, "Stand with your team of subordinates with 8-10 ropes. If you see any stray cattle on the roads, tie them up and keep them that way. Let Chief Minister Yogi Adityanath pass unhindered," according to NDTV.
Also read: UP government clears rules for cow conservation
"We are already acting against stray cattle. This was because of a misunderstanding. The order has been withdrawn," Sushil Kumar Patel, the District Magistrate of Mirzapur, was quoted as saying by NDTV.
The PWD had given a detailed explanation for turning engineers into cattle catchers. "We gave the order for security reasons. Anyone can catch a cow. You just need to tie a rope around it. A lot of these people are from villages where they do all this. They know how to catch cows," NDTV quoted the executive engineer as saying.
PWD engineers are normally supposed to help design, construct, and maintain roads and bridges.
Also read: Vigilantes quiet as over 800 cows die in shelter homes in Patna
These orders were issued since Yogi Adityanath may have visited Mirzapur on Wednesday, as part of the government's Ganga Yatra. The project focuses on cleaning the portion of the Ganges that flows through Mirzapur.
It can be noted that the Yogi Adityanath government has implemented several measures for the protection and care of stray cattle. A year ago, Yogi's government allotted ₹10 crore each to 16 municipal corporations to build shelters for stray cattle. Apart from that, 41.2 crore had been provided to every district to gaushalas.
Ever since Yogi became the chief minister, the state has witnessed numerous debates over stray cattle, arguably because of severe restrictions on the sale and transportation of cattle. The opposition had blamed the Yogi government for accidents taking place due to stray animals on roads.
Farmers had also complained that stray cattle damaged crops in their fields.