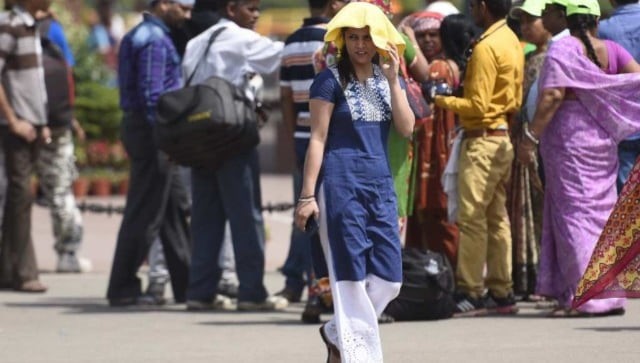 UP: 54 dead in 72 hours at Ballia hospital; probe team dismisses heatwave as reason
Fifty-four people admitted at Uttar Pradesh's Ballia district hospital have died in the last three days, following which a team of the health department from Lucknow has reached the hospital to ascertain the cause of deaths, officials said on Sunday.
The deaths came amid the heatwave conditions in the region. However, Ballia Chief Medical Officer (CMO) Dr Jayant Kumar said only two people have died due to heat stroke in the district till Sunday. Nearly 400 patients were admitted to the district hospital from June 15 to 17, they said. All the patients who died at the government hospital were aged above 60 years.
CMS removed for 'careless remark'

Meanwhile, Chief Medical Superintendent (CMS) of the district hospital, Dr Divakar Singh, was removed and sent to Azamgarh, allegedly after he "made a careless remark" about the cause of deaths. Dr SK Yadav has been given the charge of CMS, a senior official said.
Also watch: Heatwave causes deaths and disruptions in Odisha, Uttar Pradesh, and Jharkhand
"As per records of the district hospital, of the 54 deaths, 40 per cent of the patients had fever, while 60 per cent were suffering from other diseases. So far, only two persons have died due to heat stroke in the district," CMO Kumar told PTI. CMS Yadav said the hospital is under pressure as around 125 to 135 patients are being admitted daily.
"On June 15, as many as 154 patients were admitted to the district hospital, of which 23 patients died due to various reasons. While 20 patients died on June 16, 11 passed away the next day. They were all aged above 60 years," he added. According to the health officials, on an average eight deaths are reported daily at the district hospital.
Additional director of the health department of Azamgarh division, OP Tiwari, on Saturday said a team of the health department from Lucknow would come to Ballia and conduct tests, after which the cause of the deaths would be ascertained. "Maybe there is a disease, which could not be detected. The temperature is also high in the region. During the summers and winters, death rates among diabetic patients and those with breathing difficulties and blood pressure usually increase," Tiwari said.
Not due to heatwave: Probe team

A senior government doctor from Lucknow, who is incharge of a probe committee formed to look into the matter, on Sunday dismissed heat as the reason. "Prima facie, these do not appear to be heatwave-related deaths because nearby districts facing similar conditions are not throwing up similar death figures. The initial symptoms were of chest pain mostly which is not the first symptom for someone affected by a heatwave," said AK Singh, a senior government doctor.
District Magistrate Ravindra Kumar on Sunday said the number of beds at the district hospital has been increased to accommodate more patients. "In order to ensure that patients at the district hospital do not face any difficulties, some air coolers and air-conditioners have been arranged. Apart from this, 15 beds have also been increased," he said. The DM also said, "CMS Dr Divakar Singh has been sent to Azamgarh, since he gave wrong information about death figures."
Also watch: How Cyclone Biparjoy could spell heatwave relief for eastern India
Opposition blames state govt

Meanwhile, the Opposition parties have flayed the UP government while blaming it for high number of deaths in Ballia district. Samajwadi Party Chief Akhilesh Yadav said, "Many people have lost lives across UP because of the carelessness of the state government. They should have warned the people about the heatwave. Not a single district hospital has been built in UP in the last 6 years. Those who have lost their lives are poor farmers because they did not receive food, medicines and treatment on time."
Deputy Chief Minister Brajesh Pathak, who also holds the health portfolio, said, "The superintendent has been removed since he had made a careless remark without having information about the heatwave. All the chief medical officers and the chief medical superintendents in the state have been instructed to identify each and every patient, and provide them treatment."
Ballia, with the entire central and eastern UP, is reeling under sultry weather. As per the India Meteorological Department (IMD), the maximum temperature in Ballia was recorded at 42.2 degrees Celsius (4.7 notches above normal) on Friday (June 16), when 20 patients had died at the district hospital.
(With agency inputs)