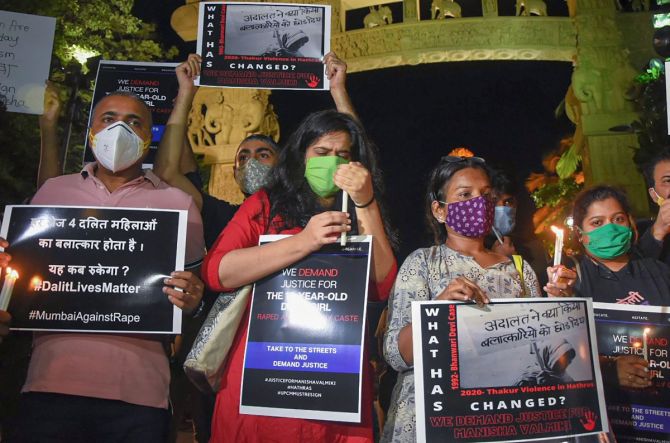 The Central Bureau of Investigation (CBI) charged the four accused, on Friday (December 18), in the alleged Hathras gang-rape and murder of a young woman in September. A chargesheet has been filed by the CBI against the accused in a court in Hathras, Uttar Pradesh. The case had led to outrage across the country.
The 19-year-old Dalit woman was allegedly raped by four upper caste men in Hathras on September 14. She later succumbed to her injuries at a Delhi hospital.
Also read: CBI formally registers arrest of fifth accused in Pollachi sexual abuse case
The victim was cremated by the police, who claimed it was done according to "the wishes of the family", near her home in the late night of September 30, which led to nationwide outrage.
The Lucknow bench of the Allahabad high court had criticised the late night cremation. In October, Uttar Pradesh Chief Minister Yogi Adityanath asked for a CBI probe into the case.
The CBI had said in a statement: "The Central Bureau of Investigation has today registered a case against an accused and taken over the investigation of the case, earlier registered at Chandpa police station in Hathras on a complaint." In October, the Supreme Court said the Allahabad High Court will monitor the investigations conducted by the CBI.
Also read: ED, CBI should be sent to borders to prove valour: Sena's dig at Centre
The Lucknow Bench of the Allahabad High Court, on Wednesday (December 17), said the next date of hearing in the case will be January 27.