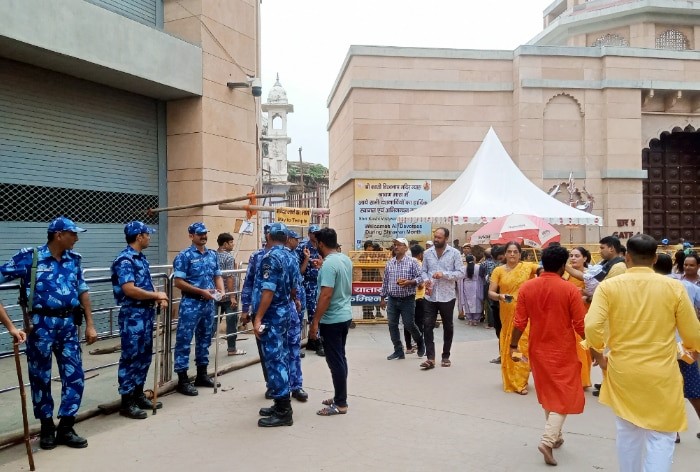 Gyanvapi case: ASI team continues scientific survey of mosque for third day
An Archaeological Survey of India (ASI) survey team reached the Gyanvapi mosque in Varanasi in Uttar Pradesh on Sunday (August 6) morning to continue the scientific survey of the complex.
Today is the third day of the ASI scientific survey in the mosque premises.
According to Subhash Nandan Chaturvedi, the advocate representing the Hindu side on the Gyanvapi case, the third day of the survey will continue on Sunday. The primary stage is over and the secondary stage will begin today, he said, adding that machineries, including radars, will also be used.
Uttar Pradesh | A team of ASI (Archaeological Survey of India) arrives at the Gyanvapi mosque complex in Varanasi on the third day of the survey. pic.twitter.com/X8C7MGbbmq

— ANI UP/Uttarakhand (@ANINewsUP) August 6, 2023
Sudhir Tripathi, another advocate representing the Hindu side revealed that several machines including Differential Global Positioning System were deployed yesterday during the survey. He said there is a possibility that radars might be used today. "We are satisfied with the survey and the Muslim side has no complaints and they also cooperating," pointed out Tripathi.
Also read: Gyanvapi Mosque: Why SC-ordered ASI survey will open the floodgates
Earlier, security was strengthened around the Gyanvapi mosque premises before the ASI team arrived at the venue.
The scientific survey of the complex flagged off on Friday after the Allahabad high court order, which allowed the ASI to conduct the survey. This survey of the temple, which lies adjacent to Kashi Vishwanath Temple, excluding Wuzu Khana, is being done to ascertain whether the mosque has been built on a pre-existing temple.
Earlier on Saturday, during the second day of the survey, Tripathi had reiterated that the scientific survey will make everything clear once abnd for all.
Also read: ASI conducts scientific survey of Gyanvapi mosque complex for 2nd day
The lawyer had said that they wanted people to cooperate in the survey and get it completed as soon as possible. "We are showing full cooperation and involvement. They (ASI) have come at the direction of the Supreme Court. We welcome it. We want the matter to be resolved soon. The survey will clarify everything," the lawyer said.
The Anjuman Intezamia Masjid Committee had challenged the Varanasi district judge's July 21 order for a survey by the ASI but it was dismissed first by the Allahabad high court on August 3, and by the Supreme Court on August 4.