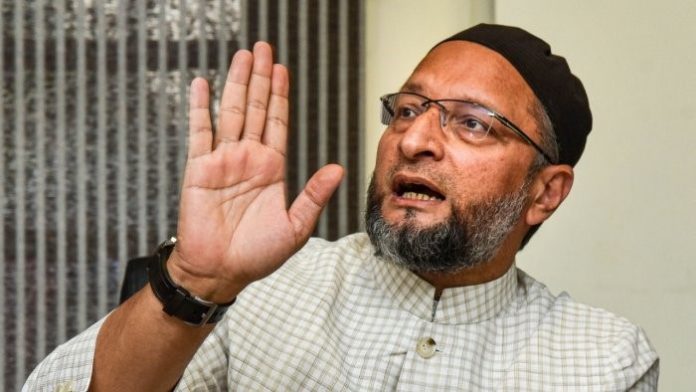 AIMIM president Asaduddin Owaisi on Sunday attacked the ruling BJP in Uttar Pradesh over the killing of gangster-turned-politician Atiq Ahmad and his brother Ashraf and demanded the resignation of Chief Minister Yogi Adityanath over the incident as well as urged for a Supreme Court-monitored probe into the matter. Alleging that the BJP was running the government in Uttar Pradesh by "rule by gun" and not rule of law, Owaisi said this had been continuing ever since the BJP government was formed in 2017 in that state.
A day after Atiq Ahmad and his brother Ashraf were shot dead in Uttar Pradesh, the Hyderabad MP termed the killings cold-blooded murder. "You see the way the weapons were fired. It is cold-blooded murder and they (those involved in the killings) are professionals. How much is the role of BJPs Uttar Pradesh government…and who are these people who in the presence of police and media resorted to cold-blooded murder? Who told them? What is their background and why didnt the police stop them? Why the police did not fire a single bullet? A Supreme-Court-monitored investigation should be done into this incident," Owaisi told reporters here.
Condemning the incident, the AIMIM chief said it is not only Indian Muslims, but all those citizens of the country who believe in rule of law and Constitution, "all of them are feeling weak today". He charged that there was radicalisation in the majority community. "Who are these people? Those who were involved in yesterdays killings if they are not related to the Uttar Pradesh government…I am raising a question…I dont know if they are related or not. And how did they get radicalised? How come they got these weapons? Who are behind them and who gave them weapons?," Owaisi asked.
"These are highly radicalised elements. Who are these people…after firing (they) raise religious slogans. What will you call them if not terrorists? Will you call them desh bhakts? Will you garland them?," he asked and slammed those who were celebrating the incident. Owaisi said the entire responsibility with regard to the incident lay on the Uttar Pradesh Chief Minister and he should resign from his post. He said the former MP who was killed had approached the Supreme Court and it had observed that the Uttar Pradesh state machinery would take care of his protection.
According to Owaisi, the murders were pre-planned and thats why independent investigation was needed. It is a failure of the BJP government in UP. How will they come out with facts?," he asked. "We demand the resignation of Uttar Pradesh Chief Minister. The Supreme Court should suo-motu take cognisance of the matter and form a team to investigate into the incident, and there should be no officials from Uttar Pradesh in that team. I plead to the Supreme Court," Owaisi said. The team should carry out investigations in a time-bound manner and it should report to the Supreme Court, he said, and demanded that all those police personnel who were present there (during the incident) be removed from service. The AIMIM leader further said Prime Minister Narendra Modi should also look into the matter.
We would like to ask the Prime Minister of the country whether you will say something or not? The Prime Minister says in his speech meri supari li gayi hain. But, now tell what is happening in the state from where you are the MP? After yesterdays incident every citizen of the country is feeling unsafe and weak." When asked if he would visit Uttar Pradesh, Owaisi said he would certainly visit the state and take up his partys work. "I am ready to die. If you think by doing such acts one will get afraid and remain silent…I am not scared. Radicalisation needs to be stopped, be it of any community, or radicalisation will weaken the country, Owaisi said. Atiq Ahmad (60) and his brother Ashraf were shot dead on Saturday night at point-blank range by three men posing as journalists in the middle of a media interaction on live camera while police personnel were escorting them to a medical college in Prayagraj for a checkup.
---
(Except for the headline, this story has not been edited by The Federal staff and is auto-published from a syndicated feed.)