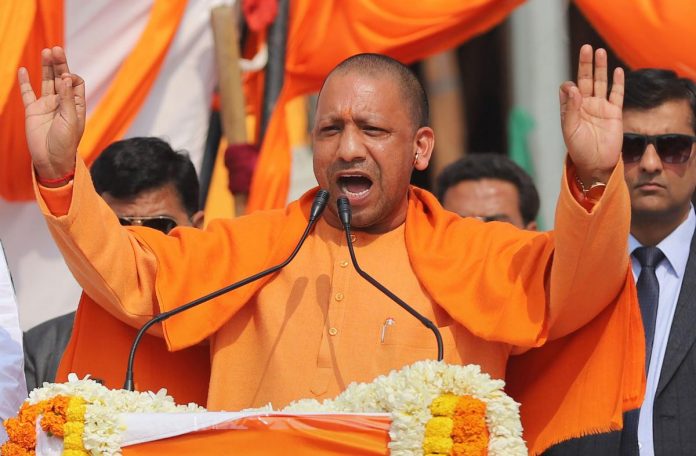 Amid reports of growing crimes against women in Uttar Pradesh, government officials have been told to name and shame eve-teasers and harassers as part of Mission Durachari.
Chief Minister Yogi Adityanath on Thursday (September 24) directed officials to put up posters carrying the names and photos of such offenders in public places.
"The Chief Minister has directed that posters of criminals involved in molesting women, girls and children, misbehaviour and sexual harassment cases be displayed on road intersections and public places, along with the names of those aiding such criminals, so that people come to know about them," a statement issued by the government said.
The directives came after the CM took cognizance of an incident that took place in Kanpur on Thursday morning when a 21-year-old Dalit woman was allegedly assaulted by two youths who were stalking her.
The two were later arrested and booked for attempt to murder, molestation and criminal intimidation. The two were also charged under sections of the SC/ST (Prevention of Atrocities) Act. Kanpur DIG Preetinder Singh said that putting up posters of the offender in such crimes is needed when police are not able to find and arrest them.
A statement issued by the state government said that the CM has directed police in every district to keep working for women safety through the anti-Romeo squads, "which have shown great results and discouraged eve-teasers". In case of an incident of crime against women in an area, the beat in-charge, the police outpost in-charge, the police station in-charge and the circle officer concerned would be held responsible, it added.
Also, directions have been that "such criminals be punished by women police personnel to send a strong message," the statement read.
Related news: Police arrest accused in 3-yr-old girl's rape, murder at UP's Lakhimpur Kheri
According to preliminary information, the operation would be implemented in a manner similar to the anti-Romeo squads that operated in the state. The police teams in every district would be cracking a whip on criminals committing crimes against women.
Meanwhile, 'Operation Shakti' was also launched in Lucknow to tackle crimes against women. On the instructions of IG Lucknow Range, Laxmi Singh, this operation was conducted in Unnao, Hardoi, Sitapur, Lakhimpur, Rae Bareli and Lucknow Rural. So far, action has been initiated against 2,200 accused in a month.
In a meeting with the home and police department officials, Additional Chief Secretary (Home) Awanish Kumar Awasthi said that by taking strict measures, a better image of the police will be presented so that women can have more faith in the department," read the statement.
It also said that anti-Romeo squads "checked" more than 83 lakh people in over 35 lakh schools, colleges and public places, like markets, malls and parks. Based on the "checking", cases were registered against 7,351 people and 11,564 were arrested, while more than 35 lakh people were let off after proper warning.
Meanwhile, DGP Hitesh Chandra Awasthy refused to comment on the direction of putting posters of those committing crime against women, saying that he was yet to receive an official order.