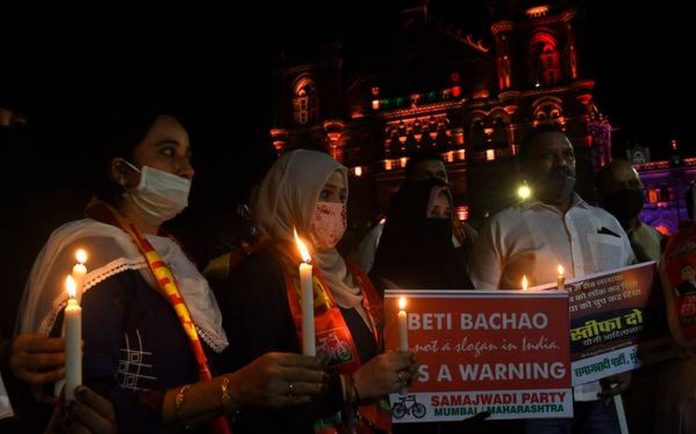 Amid ongoing protests across the nation over the alleged gang-rape and murder of a 20-year-old Dalit woman in Uttar Pradesh's Hathras, another 17-year-old Dalit woman was found dead in an agricultural field in the state's Barabanki.
The woman's body was found with her limbs tied up. Initial evidence suggested that the victim had been strangled with her shirt. The girl's family suspect sexual assault before murder since her clothes were torn and her body was found in a semi-naked condition.
Police said on Thursday (October 15) that more details will be known only after getting the post-mortem examination report.
They also said the incident took place at a village under the Satrikh police station area.
The father of the woman had informed the police on Wednesday (October 14) evening that she had gone to the fields but did not return home. Later, the family members found her dead, according to Assistant Superintendent of Police RS Gautam.
Further details will be known only after receiving the autopsy report, the ASP added.
Two suspects have been called in for interrogation and a probe is underway, according to Hindustan Times.
Related news: Days after Hathras horror, three Dalit sisters attacked with acid in UP's Gonda
A police team is currently camping in the village to ensure peace, Hindustan Times quoted Ram Surat Sonker, CO, Barabanki Sadar, as saying. This statement came in the backdrop of the chaos that ensued in Hathras and in other parts of the country, with protests from both sides over the woman's alleged gang-rape and death.
Earlier, a senior police officer told Hindustan Times that an FIR under Section 302 of the Indian Penal Code (murder) had been filed against unidentified persons. He added that further sections will be added accordingly after more findings in the investigation.
The Yogi Adityanath-led Uttar Pradesh government is currently under fire over the drastic increase in the number of crimes against women, particularly rape and murder, over the last few weeks and the manner of handling of the alleged gang-rape case of the Dalit woman from Hathras.
The Uttar Pradesh police had initially denied allegations of gang-rape in the Hathras case. They cited a forensic report, whose authenticity has been questioned by experts, since the autopsy was done numerous days after the attack.
The police had also carried a secret 2:30 am cremation of the Dalit woman from Hathras while her family had been locked up in their house, triggering nationwide protests with allegations of a cover-up.