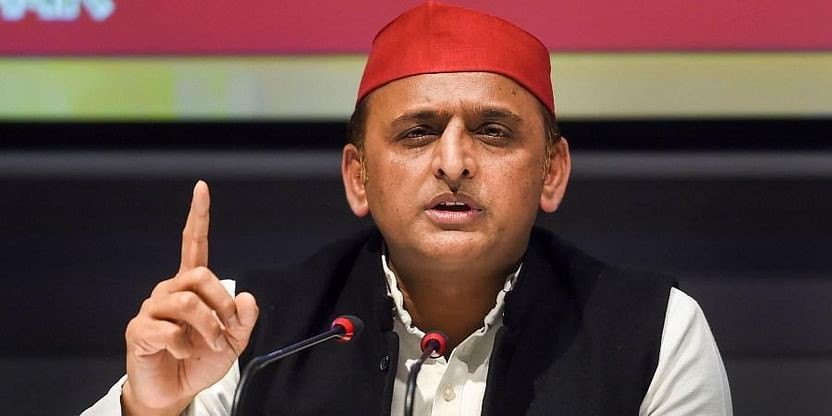 '80 harao, Bjp hatao', Akhilesh's slogan to wipe out BJP in 2024 Lok Sabha polls
Samajwadi Party chief Akhilesh Yadav on Sunday gave a new slogan, "80 harao, BJP hatao" (defeat 80, remove BJP), implying that if the saffron party has to be removed in 2024, it has to be defeated in all 80 Lok Sabha seats of Uttar Pradesh.
Yadav also targeted the Yogi Adityanath government, saying the law and order situation in Uttar Pradesh is "becoming worse". In a tweet in Hindi, he apparently referred to the registration of an FIR against BJP's Kannauj MP Subrat Pathak for allegedly assaulting police personnel, besides the arrest of an inspector and a sub-inspector for 50 kg silver loot.
Also read: After Mamata, Akhilesh Yadav offers support for Cong in 2024 polls
Uttar Pradesh has 80 Lok Sabha seats. The SP had only won five in 2019 and lost two of them — Rampur and Azamgarh — to the BJP in the by-elections. In a statement issued in Lucknow, Yadav said, "In the BJP government, ease of doing business means murder, rape, loot and corruption. Were MoUs for the supply and manufacturing of country-made pistols signed in the Investor Summit? Is training for crime being provided under skill development?" Instead of providing security and facilities to traders, there is freedom for their extortion and ransom, he alleged.
The SP chief also alleged that corruption flourished under the BJP rule in Uttar Pradesh. "Why is the chief minister not observing what is happening right under his nose? Is there any involvement at a higher level? What happened to the chief minister's claim of zero tolerance for crime and corruption," he asked.
Reacting to Yadav's statement that the SP will win all 80 Lok Sabha seats in 2024 general elections, BJP MP Harnath Singh Yadav said, "Leave alone the claims of winning 80 seats in Uttar Pradesh, just win only one Lok Sabha seat, Varanasi. If your party does this, I will retire from politics and will also resign from the Rajya Sabha membership."
(With agency inputs)