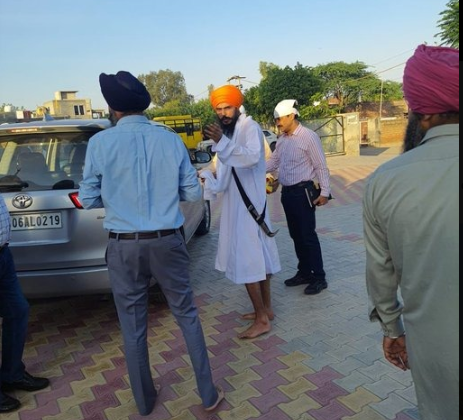 Fugitive pro-Khalistan propagator Amritpal Singh was arrested in Rode village of Punjab's Moga district on Sunday (April 23) morning after police personnel cornered him, leaving him with no way to escape, a senior Punjab Police official said in Chandigarh.
He has been taken to Dibrugarh in Assam under NSA, IGP Sukhchain Singh Gill told a press conference. "NSA warrants were issued against Amritpal Singh and these have been executed on Sunday morning. Now, law will take its own course," Gill said.
Also read: New CCTV footage shows fugitive Amritpal Singh without turban
Security at Dibrugarh
Security has been beefed up in Dibrugarh with multi-tier security arrangement been made at the Central Jail where Singh will be lodged, a senior official told PTI.
"The jail compound has been surrounded by Assam Police's elite Black Cat Commandos, CRPF and jail security personnel. The security inside the prison has also been tightened," he said. A special team is in place along with policemen in plain clothes.
Amritpal was arrested by the Punjab Police at around 6.45 am from Rode village after absconding for more than one month.
Endgame at Bhindranwale village
"A joint operation was conducted by the Amritsar Police and intelligence wing of Punjab Police. He was located in Rode village based on operational inputs by Punjab Police," Gill said. Reports say the 29-year-old radical Sikh preacher was arrested from Gurdwara Janam Asthan Sant Khalsa in Moga's Rode village, which also happens to be the birthplace of Jarnail Singh Bhindranwale.
However, the police didn't enter the gurdwara in which Amritpal was present to maintain its sanctity. "To maintain sanctity, the police did not enter the gurdwara and since he knew that he had no way to escape now, he was surrounded by Punjab Police. We also laid siege to the entire village," he said. Amritpal Singh was last year anointed the head of 'Waris Punjab De' outfit at an event held in this village only.
Police reject reports of surrender
In a tweet, Punjab Police urged citizens to maintain peace and harmony. "Don't share any fake news, always verify and share," it said in the tweet. Earlier, there were varying reports about Amritpal's arrest. While some claimed that the Sikh preacher surrendered, police said they arrested him after receiving intelligence about his whereabouts.
IGP Gill told the media that police had "credible information" that Amritpal was in Rode. "Amritpal was arrested after a concrete operational information. We had located him in Rode village after intelligence inputs," he added.
Also read: Amritpal Singh has close links with ISI; drug dealers gifted him Merc SUV
A few pictures of the radical preacher while being taken into custody surfaced on social media and in these, he could be seen a wearing traditional white robe. In a video released just before his arrest, Amritpal was purportedly seen addressing a gathering at a gurdwara. He said the last month has "exposed" the real face of the AAP government in Punjab, and asserted that he is "not an accused in the court of God."
The Punjab Police have already invoked the stringent National Security Act (NSA) against the Khalistan sympathiser.
Former Jathedar contradicts police

Meanwhile, former Akal Takht Jathedar Jasbir Singh Rode said the reports of Amritpal being arrested or forced to surrender are "false". "The police would have not allowed him to address a gathering if they knew he was here," he said.
The radical preacher has been on the run ever since Punjab Police initiated a crackdown on his outfit Waris Punjab De on March 18. In a recent video clip released on social media, Amritpal said that he was not a fugitive and would show himself soon. He had also denied rumours that he is negotiating a surrender.
He and his associates were booked under several criminal cases related to spreading disharmony among classes, attempting to murder, attacking police personnel, and creating obstructions in public servants lawful discharge of duty.
Also read: Amritpal Singh case: Noisy scenes in Punjab assembly; Cong, SAD flay govt
Wife stopped at Amritsar airport
His wife Kirandeep Kaur was stopped at the Amritsar airport by immigration officials on Thursday while she was trying to board a flight to London. Police said she was neither detained nor arrested while clarifying that they needed to question her in connection with the case. Amritpal tied the knot with UK-based Kaur in February this year.
His close aide Papalpreet Singh, who allegedly has been in contact with Pakistan's ISI, has already been arrested. On April 15, police managed to nab Amritpal's key aide Joga Singh from Sirhind in Fatehgarh Sahib.
Nine of Amritpal's aides – Daljit Singh Kalsi, Papalpreet Singh, Kulwant Singh Dhaliwal, Varinder Singh Johal, Gurmeet Singh Bukkanwala, Harjit Singh, Bhagwant Singh, Basant Singh and Gurinderpal Singh Aujla – have been lodged in Dibrugarh jail in Assam after being arrested under NSA.
(With inputs from agencies)