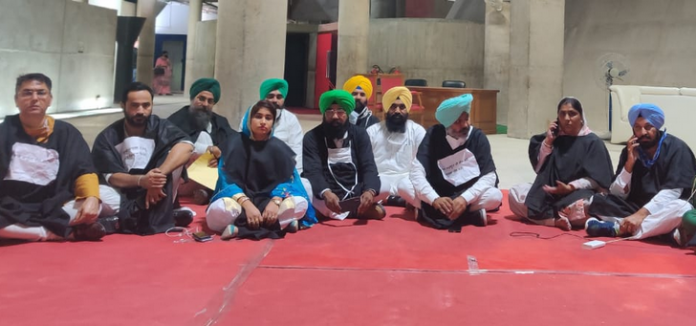 Opposition AAP MLAs on Monday (October 19) staged an all-night dharna in the Punjab Legislative Assembly in protest against the Congress government for not sharing the draft of a new agriculture bill which seeks to counter the Centre's laws on the same.
Legislators of the Aam Aadmi Party (AAP) held a sit-in in the well of the House till late in the evening and later moved the protest to the gallery outside the Assembly building, while remaining inside the premises.
The Amarinder Singh government is likely to table the Bill, which is under wraps so far, on Tuesday (October 20).
Earlier on Monday, Finance and acting Parliamentary Affairs Minister Manpreet Singh Badal had said that the government is still consulting with constitutional experts on the bill that will counter the Centre's three farm laws and copies of the bill will be shared with the Opposition parties by evening.
Related news: Farm bills protest: Farmers in Punjab continue blocking rail tracks
The AAP decided to pull an all-nighter when the promised copies didn't arrive.
"AAP will support the legislation against the farm laws but the government should have given us its copies. We haven't got copies of other bills as well. How can our legislators discuss and debate important issues?" Leader of Opposition and AAP leader Harpal Cheema told PTI.
The MLAs refused to budge despite being urged by the Speaker, Deputy Speak and Assembly officials to end their protest.
Visuals showed the 13 protesting MLAs resting on the couches in the Assembly lounge later in the evening.
Notably, four years ago when Congress was in opposition in Punjab, their party MLAs had spent the night in the Punjab Assembly seeking a debate on the no-confidence motion against the ruling SAD-BJP combine, which was defeated by voice vote, and had refused to vacate the House till the government gave an assurance that a discussion will be allowed on it.
Related news: Kejriwal is trumpeting a dubious option to avert field fires
The Shiromani Akali Dal, said the bill should have been introduced on Monday itself.
Amritsar East MLA Navjot Singh Sidhu attended the Assembly session for the first time since his resignation from the state Cabinet last year.  Calling the Centre's farm laws a "brutal attack" on the federal structure of India, he sought an assured minimum support price and government procurement of produce.