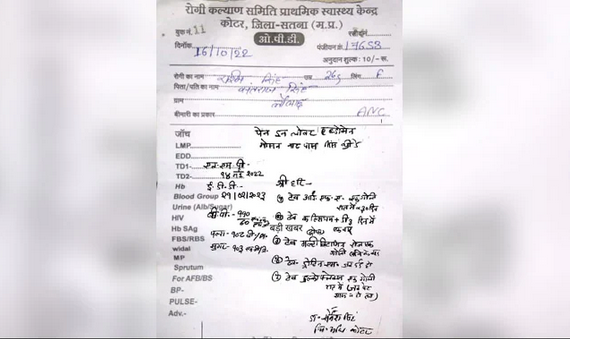 The Madhya Pradesh government's introduction of Hindi language in textbooks for medical education in the state seems to have inspired doctors to incorporate the language in their practice.
The prescription written in Hindi by Satna-based Dr Sarvesh Singh, where he uses 'Shri Hari' in place of Rx, has gone viral on social media.
The symbol Rx, an abbreviation for prescription, literally meaning "take this" is used by physicians to advise the chemist to give the prescribed medication to the patient.
प्रदेश के मुख्यमंत्री श्री @ChouhanShivraj द्वारा #MP_में_हिंदी_में_MBBS की पढ़ाई कराने की निर्णय के बाद #सतना में एक चिकित्सक ने किया अमल। मरीजों को हिंदी में दवाई लिखना किया शुरू। प्राथमिक स्वास्थ्य केंद्र कोटर में चिकित्सा अधिकारी हैं डॉ सर्वेश सिंह। pic.twitter.com/aX6Ddr1Vrx

— Chetan Tiwari (@Chetantiwaribjp) October 16, 2022
Union Home Minister Amit Shah on Sunday released textbooks for three subjects in Hindi for MBBS students in Madhya Pradesh.
Dr Singh told a reputed TV channel that he was inspired to write prescriptions in Hindi after Shah during the unveiling ceremony of the Hindi medical books urged doctors to write prescriptions in Hindi.
"I thought why not start implementing this from today," he told the TV channel.
Dr Singh's prescription begins with 'Shri Hari' and he goes on to prescribe medicines for a patient suffering from pain in lower abdomen. The doctor also delineates the entire disease history of patient in Hindi.
Incidentally, it was Madhya Pradesh Chief Minister Shivraj Singh Chauhan who had suggested doctors to write 'Shri Hari' on the top of a prescription and follow it with names of medicines, ahead of Sunday's event.
The introduction of the textbooks in Hindi for students of MBBS is part of an ambitious project by the Madhya Pradesh government to introduce the language in medical education.
Hailing the effort, Prime Minister Narendra Modi said the initiative will give an opportunity to lakhs of students to study in their native language.
Chief Minister Chauhan had said while the initiative will change the common perception that medical and engineering courses can't be taught in Hindi, it will instill the confidence among aspirants that they can move ahead in life through education in Hindi medium.