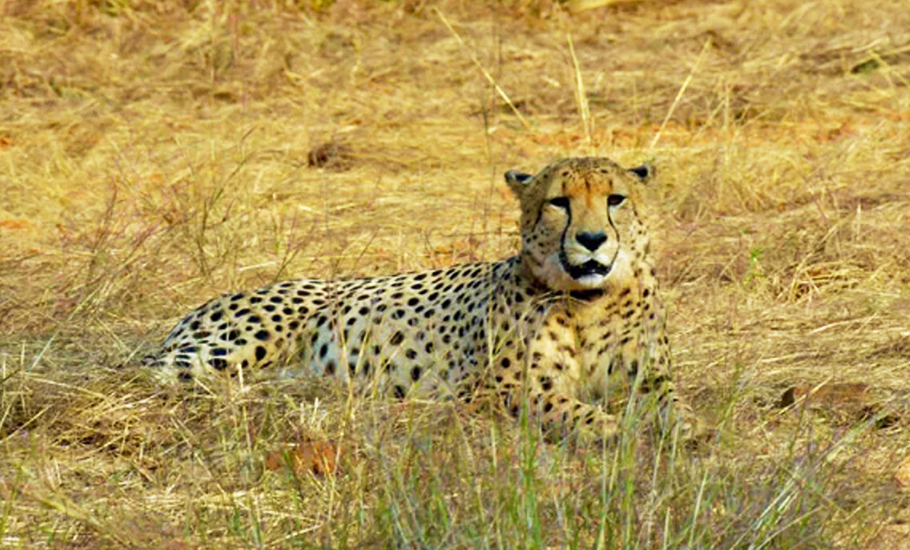 Five cheetahs — three females and two males — will be released from the acclimatisation camps into free-ranging conditions in Madhya Pradesh's Kuno National Park (KNP) before the onset of the monsoon in June, the Union Environment Ministry said on Monday.
Animals are generally not released into the wild during the monsoon season as harsh weather conditions make it difficult for them to find food and shelter and adapt to their new environment. The ministry also said the cheetahs will be allowed to move out of KNP and will not necessarily be "recaptured unless they venture into areas where they are in significant danger".
Also read: Cheetah Pavan that strayed out of Kuno National Park rescued before entering UP
An official said "areas of significant danger" mean non-forested areas where the forest department does not have a requisite management system. So far, four of the eight cheetahs brought from Namibia have been released from the fenced acclimatisation camps into free-ranging conditions in KNP. The decision was taken after a team of experts reviewed the current status of the "Project Cheetah" on the directions of the National Tiger Conservation Authority (NTCA).
Project Cheetah

To date, four of the cheetahs from Namibia have been released from the fenced acclimatization camps into free-ranging conditions in KNP. Two males (Gaurav & Shaurya) have stayed within the park and have not shown any interest in exploring the landscape beyond the…

— PIB India (@PIB_India) May 8, 2023
The team comprising Adrian Tordiffe, Veterinary Wildlife Specialist, University of Pretoria, South Africa; Vincent van der Merwe, Manager, Cheetah Metapopulation Project, South Africa; Qamar Qureshi, Lead Scientist, Wildlife Institute of India, and Amit Mallick, Inspector General of Forests, National Tiger Conservation Authority, visited KNP on April 30. They said all the cheetahs were in good physical condition, making kills at regular intervals and displaying natural behaviours.
Cheetahs were chosen for release based on their behavioural characteristics and approachability by the monitoring teams. The rest of the cheetahs will remain in the acclimatisation camps for the duration of the monsoon season.
Also read: India's cheetah reintroduction plan ignored spatial ecology: Scientists
"Certain internal gates will be left open to allow these cheetahs to utilise more space and for interactions between specific males and females to take place," the ministry said. The situation will be reviewed after the monsoon season and further releases into KNP or surrounding areas will be done in a planned manner as per the Cheetah Conservation Action Plan to establish meta population, it said.
Qureshi said a majority of the five cheetahs are those brought from South Africa and that India would like to release all the cheetahs into the wild as soon as possible. "We can conduct another review before the monsoon and release more cheetahs if there's a window to do so," he said. "We are going for staggered release of cheetahs because we want them to settle down and claim their territory," the WII official said.
(With Agency inputs)