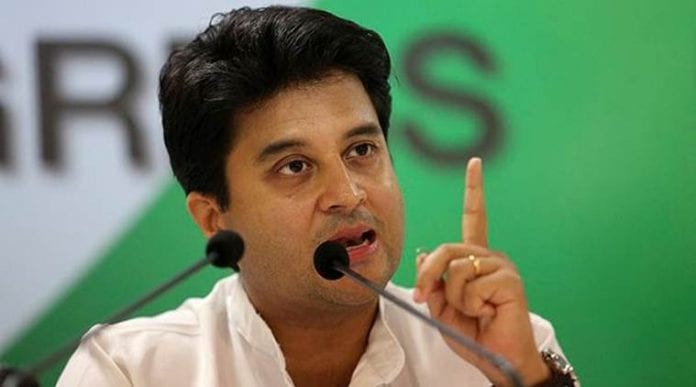 After Jyodiraditya Scindia met Prime Minister Narendra Modi and Home Minister Amit Shah on Tuesday (March 10), the Congress issued a statement saying he has been expelled from the party for his "anti-party" activities while the disgruntled leader's resignation letter dated March 9 surfaced today.
This indicates clearly that Congress leaders had tried till the last minute to retain Scindia.
After it became clear that Scindia was on a path of no return, the Congress published an expulsion statement which is being seen as a face-saver. Holi celebrations have taken a political colour for Madhya Pradesh with the Congress and BJP battling it out in a fight to the finish.
Now, the focus of the Congress is on preventing a mass resignation of Congress MLAs loyal to Scindia and top leaders including Sonia Gandhi are trying to salvage the situation. Top Congress leaders feel that the BJP should be prevented from grabbing power at least in Madhya Pradesh. Therefore, Madhya Pradesh Chief Minister Kamal Nath plans to submit his government's resignation and call for the dissolution of the assembly, followed by by-elections.
Related news | BJP plans 'Karnataka Model' to unseat Congress in Madhya Pradesh
On the other hand, Congress leaders feel the party's high command should have intervened much earlier to prevent the Kamal Nath-Scindia-Digvijay Singh faction feuds did not come to a boil. The faction war has been brewing from the time of Assembly elections in Madhya Pradesh with the three groups fighting for tickets to be given to their supporters.
The first major point of conflict was when Kamal Nath was appointed Chief Minister while Jyotiraditya Scindia was left with no major role. Supporters of Scindia pitched for Madhya Pradesh Congress chief's post for him, but that too did not materialise. The breaking point was when the leadership did not even assure Scindia of a Rajya Sabha seat while Digvijay Singh, who had also lost Lok Sabha election last year, might be nominated again.
While the BJP has been emphasising that it was not fishing in troubled waters, the finishing touches have been given by the "invisible hands" that have goaded dissident Congress MLAs to resign and precipitate the crisis for Kamal Nath.