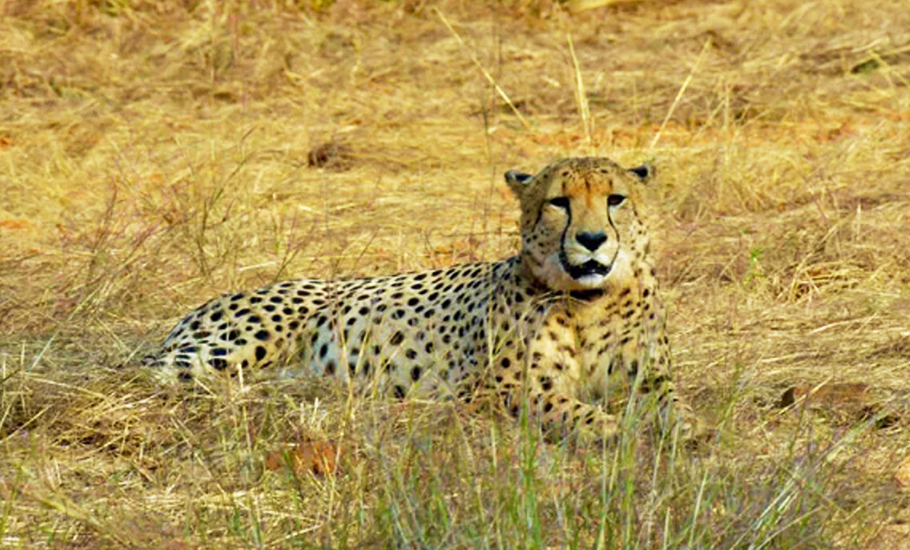 Another cheetah dies at Kuno National Park; death toll now touches 8 in four months
Within days of the death of the seventh cheetah brought from South Africa, cheetah Suraj, translocated from Namibia, died at the Kuno National Park in Madhya Pradesh on Friday.
It took the number of cheetahs that have died at the park in Sheopur district since March this year to eight. Suraj was found lying still in Palpur East Forest Ranges by a monitoring team on Friday morning. When they went closer, they found insects hovering over its neck but it then rose and ran away, said an official.
A team of veterinarians and forest officials rushed to the spot and the cheetah was found dead around 9 am, he said. "This is for the first time that a cheetah died in the free range," he added. There were injury marks on his back and neck, and a detailed report was awaited, the official said.
Also read: Cheetah deaths at KNP: Experts advise roping in experienced veterinarians for feline management
No mismanagement: Minister
Only three days ago another translocated male cheetah, Tejas, had died at the park. "The exact cause of Suraj's death will be known from the postmortem report," MP forest minister Vijay Shah told PTI. Queried about the fatalities, he pointed out that the three cubs that died were malnourished from birth itself, while other deaths were from fights during mating or eating, which is common among animals.
Rejecting any allegation of mismanagement leading to the deaths, Shah said, "The Indian government, (South) African government, Namibia government, and entire hawk force is involved in the management of cheetahs and everything is being done as per their directions. Therefore, it is not proper to say these deaths were due to negligence. The PMO is keeping a close watch. Everything is being done on the directions of the PMO. There is no negligence on our part."
Congress targets state govt
Meanwhile, MP Congress chief Kamal Nath took the state government to task over the eight deaths, claiming the latter had not come forward with any plan or taken the initiative to conserve the big cats.
Without naming the PM, Nath also said "making wild animals an object of display for political show doesn't look nice for an elected representative". "I urge those responsible for it (upkeep of the big cats) to consult environmentalists and scientists to chalk out a plan immediately which will protect the lives of these animals," he added.
Also read: Cheetah Tejas died as he could not recover from traumatic shock post-violent fight: Post-mortem report
Congress Rajya Sabha MP Digvijaya Singh ridiculed the Centre over the cheetah deaths and said "photographer Modiji" must click pictures of the incident. The PM had been photographed taking pictures of the cheetahs when they had landed in Kuno National Park (KNP) from Namibia on September 17 last year as part of an ambitious reintroduction programme after the big cat went extinct in 1952.
So far, eight cheetahs have died since March. These include Suraj, Tejas and three cubs. Eight Namibian cheetahs — five female and three male — were released into enclosures at KNP on September 17 last year at a high-profile event attended by the prime minister. In February this year, 12 more cheetahs arrived at KNP from South Africa. The birth of four cubs had taken the total count of cheetahs to 24, but eight deaths have brought it down to 16.
(With agency inputs)