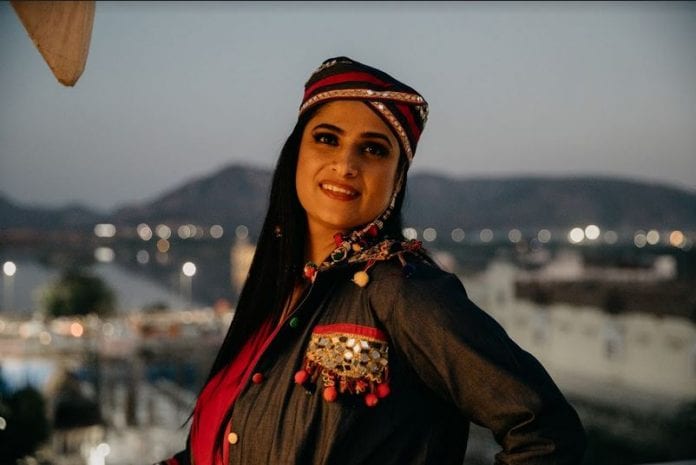 Kashmiri folk fusion artiste Aabha Hanjura's love for her land has endured and finds reflection in her music. She was only a child when her family had to leave Kashmir in the nineties due to the Kashmiri Pandit exodus. She was eventually raised in Jammu and later pursued BCom in Bengaluru at Jain College. The time came full circle for her when her eclectic folk-pop band Sufistication performed at one of Kashmir's largest public concerts, Saaz e Kashmir, held at the SKICC Grounds two years back.
Finding music amid chaos
"It was quite a historic concert for me and for the band because it was for the first time that we were performing at such a large-scale public event in Kashmir. There weren't too many public events in Kashmir. Even cinema halls were shut for the last 30 years. It was a humbling experience as the concert was attended by 4,000 people. It was a catalyst to bring people together. I consider it to be one of my greatest achievements so far as a musician," she says.
Aabha's music is authentic to the Valley and is inspired by Kashmiri folk music she grew up listening to. "I grew up oblivious to the situation in Kashmir, even though it was a part of my life. I also thought it was a normal way of living. It was only when I came to Bangalore that I realized that I come from a place that is so disturbed. When I went back to visit Kashmir, I got a different perspective. I realized there is a gloomy environment for everyone, there is so much we have lost. It's a suffering common to everyone in the state."
Aabha says the music scene in Kashmir at this point is quite negligible. "It is mostly how it is in every small city or town in India. But the music scene is kept alive by the folk musicians, who are largely dependent on radio. I would say it has a long way to go in terms of becoming more inclusive, and audiences also need to open up to all kinds of music, because there is also a lot of young talent and if they want to express themselves the way they want to then there should be an audience who will come and watch them. I wish to see a thriving music scene someday."
With the abrogation of Article 370 and the COVID-19 crisis, Kashmir has been under a long lockdown, and Aabha says: "I am hopeful that peace will prevail and life get back to normal once 4G is restored and the COVID-19 crisis passes."
More to Kashmir than rolling valleys
She agrees that one needs to look beyond the common notions of Kashmir as being either a place of conflict or of lush valleys and beautiful mountains. The state is much more than that. "I have always made a humble effort to bring out the new side of Kashmir, which comprises various ethnicities, languages, and identities, whether Hindu or Muslim, in my music," she says.
Among her notable songs are Roshe Walla, made in collaboration with Kerala-based Mad Genius Productions, comprising a Kashmiri track Dilbaro Yuier Walo and a Hindi track Chalo Chinaro Ke Gharon. Speaking about how the idea for Roshe Walla came about, Aabha says, "It was to tell a story of separation and union through a two-part music video series set in a fairy tale. The underlying theme of the song was that of love for one's land." 
Her peppy and foot-tapping Hukus Bukus has clocked over 3.7 million views on YouTube and was featured in the web series The Family Man. "It's a happy song filled with childhood nostalgia, which takes you on a joyride of innocence," she says.
Aabha is now excited about her recently-released Nundbane, a folk-pop track that borrows lyrics from the works of renowned Kashmiri poet, Mahmud Gami.
Nundbane is the fifth single from Aabha's upcoming album 'Sound of Kashmir'. "This album is a love letter to Kashmir, every song in it explores my beloved land, through a musical soundscape. Nundbane is rich with strings of love and romance that is authentic to Kashmiri folklore. Yesteryear poet Mahmud Gami's words build beautiful visual metaphors that transport you to the old world, where the idea of romance was pure and simple," she says.
Currently based in Bengaluru, Aabha, a former Indian Idol finalist, has created a niche for herself in the independent music scene. She front ends the Aabha Hanjura Feat, the Kashmiri folk ensemble, started in 2016 as an offshoot of Aabha Hanjura and Sufistication. Her music has also been featured in Oscar-nominated director Ashwin Kumar's 2019 film No Fathers in Kashmir.
Apart from Dogri, she sings in other languages, such as Punjabi and Hindi.
"In 2013, I wanted to pursue music full time. Until then, I had a successful corporate career, but I happened to visit Kashmir once on vacation and that changed me. It was also a time when I was trying to discover my purpose in life."
Aabha's creativity extends beyond music. "I paint on a wide canvas," she says. The video of the Kashmiri folk melody (usually sung at weddings) Dilbaro Yuier Valo features puppetry and the music video of Nundbane was shot in Jaipur and brings together the diverse cultures of Kashmir and Jaipur.  "I want to get my music out to the mainstream and I want it to reach more people," she says.
Aabha is looking forward to finishing her 'Sound of Kashmir' album.  "I am already thinking of my next song."