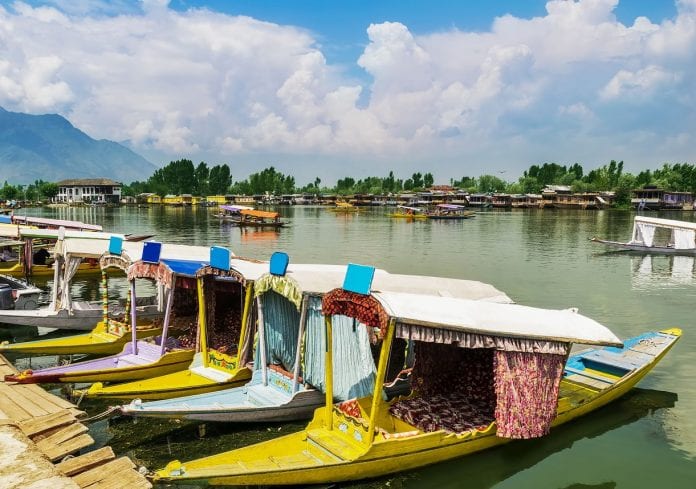 Following the Supreme Court's order to review restrictions, including a prolonged internet ban, imposed in Jammu and Kashmir since the abrogation of Article 370 on August 5, 2019, a majority of district police chiefs in the Valley have given a go-ahead for restoration of internet services, sources said.
The Federal has learned from well-placed sources that in their feedback to the government on the Supreme Court order, several district police chiefs have favoured a restoration of broadband internet services.
"While some suggested restoration in a phased manner, others favoured complete restoration of broadband internet," a senior officer told The Federal.
In its judgement on a batch of petitions challenging the internet ban in the Valley, on January 10, a three-judge bench of the apex court said that freedom to use the internet should be seen as a part of fundamental rights as per Article 19 (1) (a) of the Constitution. The court also observed that Section 144, cannot be used as a tool to oppress and quell dissenting opinions, and that "indefinite suspension of internet services is impermissible and must be subjected to judicial review."
"Even as police officers on the ground have given their feedback on the Supreme Court's order, there would be more discussions on the matter at various other levels," said a police officer.
Doubts amid hopes
The news on the possible restoration of internet services in the Valley has raised hope and expectations among residents, who have been severed from the rest of the world for the past 161 days in the Valley's longest-ever cyber curfew.
Health professionals say that critical healthcare and patient care could improve with restoration of modern communication mediums.
Dr Rehana Kausar, an epidemiologist and member of the Save Heart Kashmir initiative, welcomes the Supreme Court judgment.
Also read: Unplugged from the world, Kashmir still awaits normalcy
"If mobile internet is restored, it will make our job easier. On the internet the learning is fast, the delivery is fast, and the knowledge gained is instantaneous. By using WhatsApp, our Save Heart Kashmir project would be able to save lives again," she said.
Kashmir's well-known radio jockey Sardar Nasir Ali Khan has not been able to work from Srinagar because his radio broadcasting programmes cannot function without the internet. In the past five months, Khan says, he had to travel to Jammu from Srinagar at least four times just to save his job.
"I ran from pillar to post, approached the former Inspector General of Police (SP Pani) for restoration of the internet so that I could work. But he got transferred and there was no progress since," Sardar Khan, cluster head, Jammu and Kashmir 95 FM Tadka, told The Federal.
Khan feels the Supreme Court should have ordered restoration of the internet instead of asking for a review. "The Supreme Court did not order restoration. It is too little, too late," he said.
Houseboat owners too are worried about the future of their business.
Tariq Ahmad owns four houseboats in the middle of the Dal Lake. Earlier, all his houseboats would have full occupancy as visitors from Russia, Malaysia and EU countries would book rooms online.
But, Ahmad says the internet shutdown has badly affected his business, making his suffer financial losses worth lakhs of rupees.
"Kashmir remains cut off from the world. There is no way we can upload pictures on our websites to attract visitors with our offers," he told The Federal.
Immediate restoration must to minimize losses
The possible restoration of internet services, especially the mobile and wire-line internet, would enable people to pay their electricity, water and mobile phone bills and EMIs instantly.
Many in Kashmir say that a "collective punishment" is being meted out to them for no fault of theirs.
Qazi Shohab, a Kashmiri student, has applied at multiple foreign universities, but to do this had to travel to New Delhi to gain internet access. "I could not sleep for four nights. Finally, I left for New Delhi to meet the deadline of foreign universities," he said.
Also read: In trying times, Kashmiris find catharsis in prayers, books and TV series
Sheikh Ashiq, president, Kashmir Chamber of Commerce and Industries, said that expectations about restoration of internet services in Kashmir after the Supreme Court's judgment may have risen, but what people have lost in the past five months cannot be recovered. "We have to start from the scratch. It is high time that the authorities realise the dangers of long-lasting internet ban on region's economy, jobs and tourism industry."
Earlier, the Congress Party at the CWC, the party's highest decision-making body, noted that India was facing an unprecedented crisis in its history since Independence and cautioned the government that its 'divisive agenda' will pose a serious challenge to internal security and make the country vulnerable to hostile external forces.
Former Chief Minister of Jammu and Kashmir Ghulam Nabi Azad described the Supreme Court order as "historic". "We welcome this judgement. This is the first time the SC has talked about how people of Jammu & Kashmir feel. I would like to thank the SC for a very historic decision and the people from across the country were waiting for it, especially the people of Jammu and Kashmir," he said.