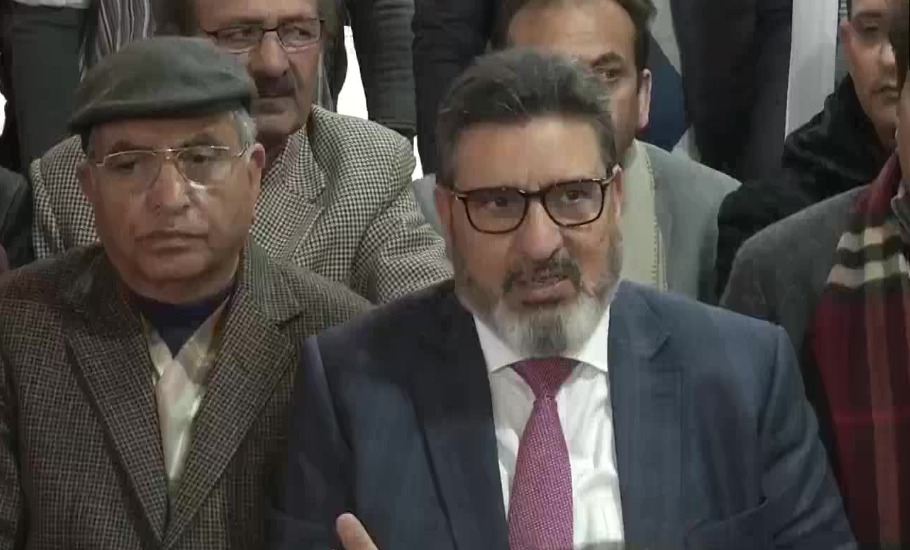 Ex-PDP leader Altaf Bukhari launches Apni Party in Jammu and Kashmir
Former Peoples Democratic Party leader Altaf Bukhari was on Sunday (March 8) unanimously elected as the president of the Jammu and Kashmir Apni Party hours after its launch.
Former Peoples Democratic Party leader Altaf Bukhari was on Sunday (March 8) unanimously elected as the president of the Jammu and Kashmir Apni Party hours after its launch.
Bukhari, who has previously held a ministerial post in the Mehbooba Mufti government, will head the political outfit which is expected to have more than 30 leaders, including 23 former legislators and ministers from Peoples Democratic Party (PDP), National Conference (NC) and the Congress, sources told Indian Express.
The move is being viewed as the start of a "political process" in the valley almost seven months after the abrogation of Article 370 and bifurcation of the then state of Jammu and Kashmir into two union territories.
Related news: J&K Reorganisation Act, 2019 finds place in J&K's school textbooks for class 10
"It is a very happy occasion that finally we have come up with our party known as Apni Party. It puts a lot of responsibility on us as the expectations and challenges are huge. I assure people of Jammu & Kashmir that my will is strong," said Bukhari, as reported by ANI.
The Apni Party president, who was a businessman by profession, has earlier held the education and finance portfolios in the united Jammu and Kashmir's PDP-BJP coalition government. However, he was in January 2019 expelled from the party after he allegedly "inspired and led dissent in the party".
According to sources, Ghulam Hassan Mir, former minister and chairman of Democratic Party Nationalist, former MLAs of PDP — Yawar Mir, Noor Mohd Sheikh, Ashraf Mir, and former Congress MLAs — Farooq Andrabi, Irfan Naqib are also likely to join the newly launched political outfit.
Related news: Kashmir govt working with Cisco to block social media: Report

The party which is being viewed as an emerging Third Front will also have Kashmiri pandits, civil society, Block Development Council chairpersons, former chief secretary and political adviser to CM, district Pradesh chiefs of political parties and the municipal committee chairpersons among others.
Other than the capital city of Srinagar, the party will have representatives from various places including Gurez, Kokennag, Karnah, Jammu, Anantnag, Reasi, Pulwama, Budgam, Kulgam, Kishtwar, Baramulla, Rafiabad, Rajouri, Tanmarg, Bandipora, and Vijaypora.
According to the latest reports, the main aim of the party will be to provide a "political alternative and a new Democratic option" which moving on from the "perpetually mourning" over the Centre scrapping the erstwhile state's special status under Article 370 of the Indian Constitution.
Related news: Pleas on Kashmir move: SC order on referral to larger bench on Monday
The political outfit is expected to focus on not just politics but also on several socio-economic developments for the citizens of the union territory.
Making the concerns of people their priority and bring it up at all possible forums with all political parties, ensuring unity between the people of Jammu and Kashmir, working in unison with the administration to revive political activities in the valley, and raising demands for restoring statehood and decentralisation of power in the region will also be some of the key goals of Apni party.
The development comes in the backdrop of the three former chief ministers — Farooq Abdullah, Omar Abdullah and Mehbooba Mufti — continuing to be detained since the abrogation of Article 370 on August 5 last year, while several other political leaders are under house arrest.