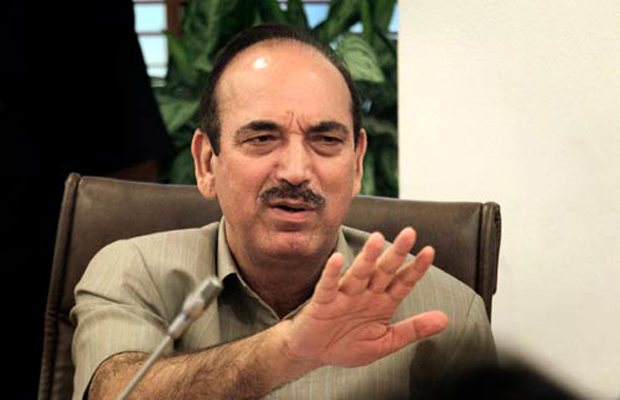 Azad in Kashmir: no 'Azadi' yet for aggressive political narrative
As the world is anxiously battling Coronavirus pandemic, the Kashmir Valley is witnessing unusual political activity after a gap of more than seven months since the chaotic region's semi-autonomous status and statehood were removed last August.
As the world is anxiously battling the coronavirus pandemic, the Kashmir valley is witnessing unusual political activity after a gap of more than seven months since the region's semi-autonomous status and statehood were removed last August, which was followed by an unprecedented information blockade, the world's longest internet shutdown, mass arrests, and suspension of civil liberties.
Senior Congress leader Ghulam Nabi Azad arrived in Srinagar and met former chief minister of Jammu and Kashmir Dr Farooq Abdullah, who was released recently after being kept in detention for 222 days.
The Urdu word 'Azad' means 'free' in English. Azad openly expressed his opinion on the current political fiasco in Jammu and Kashmir. However, to what extent the region's politicians are 'free' remains an unanswered question.
Azad took a dig at the recently formed political party, 'Apni Party', which is headed by former People's Democratic Party (PDP) leader and former cabinet minister Altaf Bukhari, hinting that the Bukhari-led flock was sponsored by intelligence agencies.
"The parties created by (intelligence) agencies cannot run Jammu and Kashmir or the democracy," the Congress leader said at Abdullah's residence. Azad was allegedly hinting at Apni Party whose representatives met Prime Minister Narendra Modi in New Delhi on Saturday (March 14) afternoon.
Related news | SC seeks response from Centre, J-K admn on Omar Abdullah's release
Flanked by Dr Farooq Abdullah, Ghulam Nabi Azad demanded restoration of statehood to Jammu and Kashmir, which was divided into two separate union territories on August 5, 2019.
Strangely, Abdullah remained silent and did not make any political statement at that time. However, Abdullah's silence in itself was a statement.
Credible reports state that former spymaster and chief of India's intelligence agency, Research and Analysis Wing (R&AW), Amarjit Singh Dulat had come to Kashmir last month to meet Farooq Abdullah at his Gupkar residence. Apparently, Dulat's Srinagar visit and meeting with Abdullah was approved by National Security Advisor Ajit Doval.
In his memoir Kashmir: The Vajpayee Years, Dulat has showered accolades on Farooq Abdullah.
In his second book titled Spy Chronicles, which was co-authored with the former intelligence chief of Pakistan, Asad Durrani, and written by Indian journalist and editor Aditya Sinha, Dulat goes on to say, "He (Farooq Abdullah) is one Kashmiri who understands not only Kashmir but New Delhi well. He is the best bridge between Delhi and Srinagar. Now he's reached a stage where he needs to understand Pakistan, and if he did, and he already knows Delhi, then it would help."
The book is based on the conversations between A S Dulat and Asad Durrani in Bangkok, Kathmandu, and Dubai.
It can be noted that Dulat does not mind that people refer to him as 'Farooq Abdullah's man'.
In Kashmir: The Vajpayee Years, Dulat says, "Money in Kashmir goes way back, even to Sheikh Abdullah's time. After all, why was Sheikh Abdullah dismissed as Prime Minister of J&K in 1953? … Thus, since Sheikh Saheb's time, anybody who's been on the right side of Delhi has been getting money from Delhi. It's as simple as that."
Related news | Farooq Abdullah visits detained Mehbooba Mufti's residence
In this backdrop, people in Kashmir have grown skeptic about Abdullah's next move since the general impression among people remains that he is the man who has always been "Delhi's man", by compulsion if not by conviction.
On Saturday, Abdullah also met his son, Omar Abdullah for the first time since August 2019. Omar had grown a long salt-and-pepper beard over the past few months when he had been detained. Again, Omar had not made any controversial political statement regarding the detention.
The general perception is that once all leaders, including Omar Abdullah and Mehbooba Mufti, are released, there would be more clarity with regard to the path ahead. The thought suggests that both Omar and Mehbooba, and Shah Faesal have become politically radicalised during detention while their detractors say that all Unionist politicians have actually played to the BJP's script and are trying to 'sell off their detention as a sacrifice'.
Be that as it may, the National Conference has released a statement saying Abdullah had "expressed gratitude to the visiting leader (Ghulam Nabi Azad), who had a two-hour long meet with him at his residence." According to the statement, Abdullah has also "thanked all the opposition leaders for raising their voice for restoration of people's rights and the release of all incarcerated political detainees."
Later, at a presser, the duo sought "restoration of democracy as a first and foremost step for any political step." Those present at Abdullah's Gupkar residence at the time of Azad's arrival included MP Mohammad Akbar Lone, Showkat Mir, Imran Nabi Dar, Riayz Bedar, Peer Hussain and many others.
Related news | Azad meets Farooq Abdullah, calls for restoration of democracy in J&K
The National Conference has also reiterated its demand to "release all political leaders, activists, students and trade unionists."
It is clear that the NC is playing a waiting game, and Abdullah, after his release, is looking more and more like a reluctant initiator, giving rise to speculations that the Unionist parties at this point are not in a position or are not willing to challenge the BJP's script in Kashmir.
Will things change once Omar, Mehbooba and Faesal are out?
(Gowhar Geelani is Kashmir-based journalist and political commentator.)