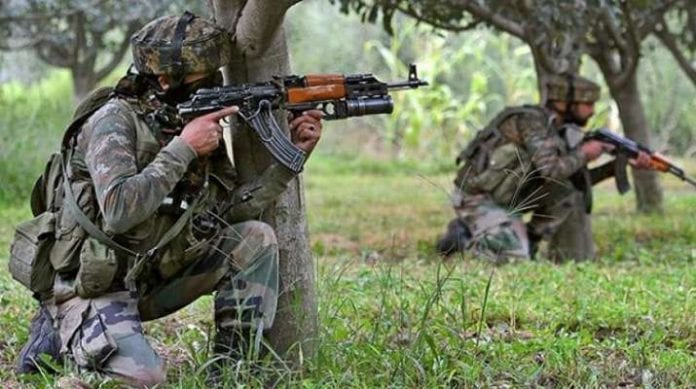 An army officer was killed and three others were injured in an intense exchange of fire between Pakistani and Indian troops along the Line of Control in Jammu and Kashmir's Poonch district, officials said on Sunday (June 14).
Sources said Pakistani troops had opened fire first, and that the shelling across the border took place in the Shahpur-Kerni sector on Saturday (June 13) night, which resulted in retaliation by the Indian Army.
Four Indian Army personnel were injured in the firing and immediately taken to a hospital, of which one of them succumbed to injuries, the officials said.
They added that the casualties suffered by the Pakistani troops during the firing were not immediately known.
This is reportedly the third fatality in the Indian Army this month during the firing and shelling between Indian and Pakistani troops on forward posts and villages in the twin districts of Poonch and Rajouri.
Related news: Pakistani troops violate ceasefire, fire towards Indian positions
Havildar (a designation equivalent to sergeant) P Mathiazhagan died during a similar episode in the Sunderbani sector of Rajouri district on June 4, while Naik Gurcharan Singh passed away in the firing at Rajouri sector on June 10.
Pakistan had also allegedly violated the ceasefire along the Line of Control and opened attack towards Indian positions on Saturday (June 14) in the Kamalkote sector of Jammu and Kashmir on Saturday, according to officials.
This comes at a time when Indian and Chinese troops have been slowly disengaging after a month-long standoff along the Line of Actual Control in eastern Ladakh.
Amid increasing tensions between the two nations due to the skirmish along the border, China had also recorded an increase in activity in that region during this period, including bringing in more troops and upgrading a military airbase there.
The border dispute came into focus after an arm-to-arm combat between the two troops, with India refusing to stand down.
The two sides later held a series of high-level talks to resolve the issue.