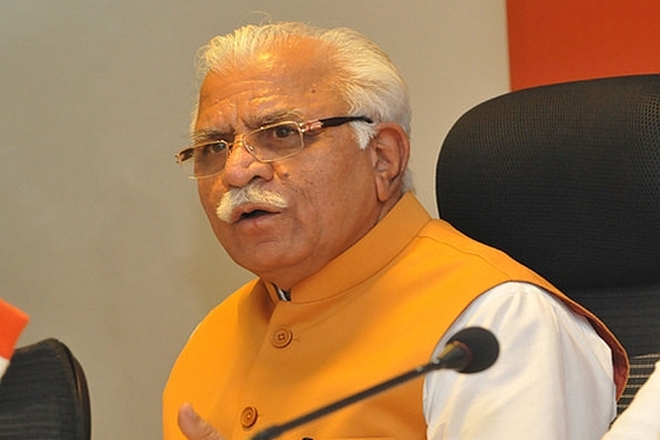 The Haryana government has made a U-turn on its announcement of Rs 147.75-crore loan for 10 state universities by saying that it is "grants-in-aid" and not loan per se.
The decision comes after protests from students and teachers and also criticism from the Opposition Congress and BJP's ally Jannayak Janata Party (JJP).
It was on April 29 that the Manohar Lal Khattar announced a Rs 147.75-crore loan as part of the scheme's first instalment for the financial year 2022-23 for 10 state universities – Kurukshetra University, Maharishi Dayanand University (Rohtak), Chaudhary Devi Lal University (Sirsa), Dr Bhim Rao Ambedkar National Law University (Sonepat), Bhagat Phool Singh Mahila Vishwavidhalya (Sonepat), Chaudhary Bansi Lal University (Bhiwani), Indira Gandhi University (Rewari), Gurugram University, Ch Ranbir Singh University (Jind) and Maharshi Balmiki Sanskriti University (Kaithal).
According to reports, the government said the loans were approved for "encouraging (state-run) universities to generate resources at their own level and bring financial discipline in the universities to ensure competitiveness and quality education".
However, teachers' unions opposed this from the first day and feared that universities would be privatised and also students would be forced to pay exorbitant fees. There were protests from teaching, non-teaching staff, and students.
As per an Indian Express report, from May 9 onwards, teachers of 13 government-run universities started wearing black badges and two days later, teachers and non-teaching faculty observed a three-hour strike. The Indian National Students' Organisation (INSO), which is the students' wing of the JJP, also came out against the government's move.
The Congress hit out at the Khattar government saying that it had decided to "drown" the education sector with the burden of loans.
"The Khattar government has decided to drown the education sector with the burden of loans. The state-run universities were supposed to receive Rs 300 crore from the state Budget but now have received the first loan instalment Rs 145.47 crore… The BJP-JJP government has been cheating the youth of Haryana at every step from education to employment," Congress leader and former Haryana minister Randeep Singh Surjewala tweeted on May 6.
खट्टर सरकार ने अब शिक्षा को भी "कर्ज़ में डुबाने" की तैयारी कर ली है !

राज्य विश्वविद्यालयों को 300 करोड़ रु. तक बजट से मिलने थे,

अब कर्ज की पहली क़िस्त में 145.47 करोड़ रु. मिले हैं।

पढ़ाई से लेकर रोज़गार तक हर कदम पर भाजपा-जजपा सरकार, हरियाणा के युवाओं को धोखा देती आ रही है। pic.twitter.com/S1qTtK9a1d

— Randeep Singh Surjewala (@rssurjewala) May 6, 2022
All this led to the government reversing its decision.
Additional Chief Secretary (Higher Education) Anand Mohan Sharan clarified that Rs 147.75 crore approved for the universities was "grant-in-aid only" and not a loan.
The government, in a letter, clarified, "The intent of the earlier UO note (April 29) was not to create any liability on the university but to encourage universities to exercise their independence, autonomy and emerged as vibrant institutions of high quality. It is with these objectives that the government will continue to provide and support universities as being done hitherto, with necessary grants-in-aid as per requirement."
Reacting to the government's decision, JJP secretary-general Digvijay Chautala, the brother of Deputy Chief Minister Dushyant Chautala and INSO national president, was quoted as saying, "When this decision (loans to universities instead of grants-in-aid) was taken, the INSO was the first to raise this issue. Now that the government has withdrawn this decision, it should be welcomed. Universities are important to make our generations efficient and the government grant for these institutions is very much needed."
According to insiders, the ruling BJP party did not want the matter to snowball into a big agitation and alienate the youth, who are a crucial electoral group, an Indian Express report said.