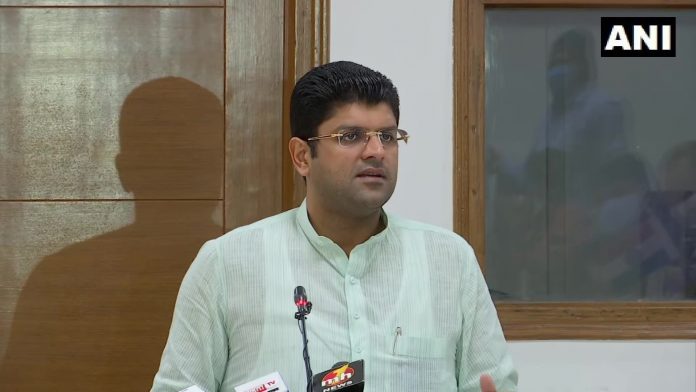 Haryana Deputy Chief Minister and JJP leader Dushyant Chautala never openly opposed the Centre on the contentious farm laws. Now that the government has agreed to give a written guarantee of minimum support price (MSP), Chautala has put the ball in protesting unions' court. However, the Chautala clan has been criticized by farmer unions, independent MLAs and even discreetly opposed by his own party MLAs for not standing with the sons of the soil.
The deputy CM invited farmers' wrath when he told media on Thursday, "Farmers' demand that the Union government must ensure MSP in writing has been fulfilled yesterday (Wednesday, December 9). It is up to their union to decide (on government's proposal)." Chautala tried to clarify his stand by saying he is "a farmer first" and it is his responsibility to ensure "farmers get adequate price for their crop".
Also read: One farmer dies daily on average during protest as pressure takes toll on health
Haryana Kisaan Sabha President Phool Singh Sheokand accused Dushyant Singh Chautala of double standards. "He (Dushyant) did not utter a word when asked to speak on behalf of farmers. Now when the Central government wants him to, he is speaking in favour of the farm laws. It clearly shows that Dushyant Chautala loves deputy CM's post more than the farmers of Haryana," said Sheokand.
"Dushyant came to power using the name of his great grandfather Devilal, who was a great farmer leader. He has spoiled his great grandfather's reputation. Dushyant does not have a spine and is a cheater," Sheokand added.
Also read: BJP plans massive campaign to promote farm laws amid backlash
When asked why the farmer unions still protesting when MSP has been included in the law, Gurnam Singh, president of Haryana Kisaan Union, said there is a lot of confusion and lack of clarity in the amendment the government had sent them.
"Our demand is to scrap the three farm laws and we won't accept any amendments considering the government's past record of backtracking on its promise," Gurnam Singh said.
The farmer leader gave reasons for not trusting the government. "This government brought demonetisation, GST, CAA, scrapped Article 370 and now brought these bills. Every time they try to justify their decisions by counting the benefits of their acts, but no one has benefitted from them so far. Now they are doing the same to farmers," he added.
Boycott of JJP, BJP
Over 130 khap panchayats and nearly 6,000 panchayats in Haryana have boycotted Dushyant Singh Chautala's Jannayak Janta Party (JJP) and Bhartiya Janta Party (BJP).
Jagbir Malik, spokesperson for khaps in Haryana, said that all the khaps in Haryana unanimously decided to boycott the coalition of BJP and JJP.  "Whatever the two parties are doing with the farmers is not right and the demand of all the farmers must be fulfilled as soon as possible," Malik said.
The khaps from Uchana area, which is the constituency of Dushyant Chautala, also announced a "social boycott" of Chautala and his party for supporting the BJP government.
Balwan Palwan, a khap leader from the area, said that they have decided to boycott all the leaders who support the BJP government. He said they will "strictly deal with them" if the JJP leaders came to their villages.
"We will not talk to them and won't welcome them to panchayats. We will show them black flags and the village will not help such people with anything," he added.
Satpal Singh, a panchayat member from Julana in Jind district, too warned BJP and JJP MLAs and MPs against entering their village. "We voted for JJP thinking they will stand as farmers' leaders, but Dushyant is nothing more than a cheater," Satpal Singh said.
Besides the boycott, elected representatives of Panchayati Raj Institutions (PRIs), including sarpanchs, panchs and members of the block samitis and zila panchayats too have started resigning one after the other in support of the protesting farmers.
About 35 PRI members have resigned in Hisar while the elected representatives from Fatehabad, Sirsa, Jind and Kaithal districts too may quit their posts sooner than later.
Randhir Singh, sarpanch of Alewa village in Jind, said that 21 PRI members in his and neighbouring villages will resign on December 14 to show their support for farmers. "We will resign taking the name of Dushyant Chautala and we have boycotted him and BJP for entire life."
Resentment in JJP
While Dushyant Chautala is seen supporting the BJP on the three farm bills, his party MLAs are often seeing disagreeing with him. After Dushyant's comment, Ram Karan Kala, a JJP MLA from Shahbad in Kurukshetra, told 'The Federal' that he still stands with the farmers and will visit Chandigarh to talk to Dushyant Chautala soon.
Kala, who actively participated in farmers' protest, earlier said the government "should act quickly so that the protest does not turn into an agitation".
Kala said the JJP is in talks with the Haryana government. "We will make sure that the demands of farmers are met. JJP stands strong with the farmers," he added. When asked about the future of JJP-BJP alliance, all MLAs said they will follow the official party line decided by their leadership.
Many leaders of Dushyant's Jannayak Janta Party (JJP), have been openly voicing their support for the farmers' protest. Amarjeet Dhandha, a JJP legislator from Julana in Jind district, earlier told 'The Federal' that he is in complete support of farmers. "The Union government must put MSP guarantee in the Act. I am a farmer and I support their cause."
Rohtas Nagura, a political analyst in Haryana, said, "The situation is very intense in Haryana right now. On one side the BJP needs JJP to remain in power. JJP presented itself as a farmers' party and now Dushyant Chautala is not saying anything in support of farmers. The biggest problem is for the JJP MLAs who are supporting the farmers but still face the heat because of the party leadership."