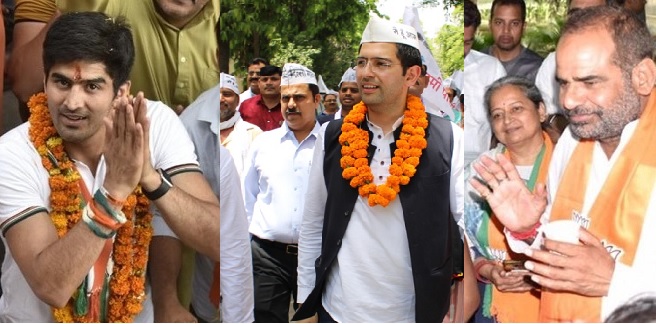 There are many ways and edifices to describe the South Delhi constituency. For some, it's the constituency of Delhi's rich and the powerful. For others, it is a hub of ordinary people with everyday problems of roti, kapda and makaan (basic necessities).
The south Delhi parliamentary constituency, many Delhi lovers grudgingly complain, has lost its elite touch after the 2008 delimitation, especially with posh colonies such as Greater Kailash and RK Puram going to the New Delhi constituency. Now, the south Delhi constituency hides a number of mediocre urban villages and dingy slums within the upscale camouflage.
Elections and the build-up to the D-day throws up some uncomfortable conjectures here in South Delhi. Traditionally a BJP stronghold, the Parliamentary seat is up for a three-cornered fight between sitting BJP MP Ramesh Bidhuri, Olympian pugilist and Congress's Vijender Singh and AAP's Raghav Chadha. The latter two are making their debut in parliamentary polls.
With a mixed population of Gujjars, Jats, Punjabis, Brahmins, OBCs, Banias, Muslims from all communities and Purvanchali voters, caste equations are likely to play a key role in south Delhi.
While AAP's Chadha belongs to a Punjabi family and is banking on voters from his community as well as the loyal voter base of the AAP, Bidhuri, a Gujjar, is eyeing to retain his Jat and Gujjar voters besides wooing the Purvanchali and OBC voters. Vijender Singh looks focused on the Jats, Yadavs and Scheduled Castes (SCs) of the area.
Like everywhere else, Modi is a popular name that crops up in every political conversation but residents here mostly talk about water, electricity, non-regularised colonies and their biggest headache for the past year – the sealing drive.
With the elections in Delhi drawing nearer, The Federal attempts to tell the story of south Delhi through conversations with the main stakeholders of the constituency – the voters.
Dakshinpuri Extension
Dakshinpuri has had a busy weekend with AAP's Raghav Chanda frequenting the area with his modest padyatras and public meetings. Sitting at his grocery shop, Anand Jaiswal is more than just a spectator of the seasonal election frenzy. "Every elections, the issues are same but the level of fight assumes different proportions. If it's about local issues and problems like water, sewage pipes, health and education, our area has seen considerable changes in the recent past. The AAP has done a good job but this election is not just about Delhi and local issues. It's more about national issues. Who will rule the country?" says Jaiswal, who believes Prime Minister Narendra Modi has managed to hijack the poll conversation and make this elections a battle between 'Modi versus the rest'.
Ask him why? "Log toh Modi, Modi hi kar rahe hai (people keep talking about Modi)." He adds, "But there are a very few people who actually have anything specific to say about the PM. Of course, they will tell you Balakot and Pulwama but has that made any difference in their personal lives?" Jaiswal believes the aam janta (public) cannot be so selfless only to think about the greater good of the nation even at the cost of their own personal setbacks.
"Like during demonetisation and GST, people were more worried about their own money, which is the only natural thing to do. But some of them kept saying notebandi is good for the nation because it will bring back black money. I wonder if they still think the same. But more than GST or notebandi, families in Delhi were affected by the sealing drive. Most middle class families in Delhi, even if engaged in private and government jobs, survive on small commercial ventures run from residential areas."
But Jaiswal says that people do acknowledge the importance of reduced electricity bills and water or the difference that a free health check-up makes in the monthly budget of poor families.
He, however, feels it's the media which is largely responsible for diverting the focus from main issues and shifting it towards a popular narrative weaved around India's pride. "There is a reason why the public goes Modi, Modi. We will talk about the one who is dominating the media conversations. Who do you see the most in newspapers or TV channels?"
Vimla Kumar from Subhash Camp agrees with Jaiswal. "We have made every party [Congress, BJP, AAP] win from here in one election or the other. But now we know who can bring actual changes to our lives."
She, however, feels this time around Congress "should come back to power". Any specific reasons? "AAP kendra mein sarkar bana nahin sakti aur kamal ka kaam toh dekh hi liya (AAP can't form a government at the Centre and we have seen what the BJP's done)." Unsure of her own reading of the situation, Vimla says, "I'm just a housewife, I may be wrong but I'm saying from what I saw in the past five years. Sara kiya karaya Kamal ka hi hai, notebandi se le ke logon ki maut (From demonetisation to deaths, that's all the nation seen in five years).
Saket
For most Delhiites — rich, middle class or poor — the definition of a life of luxury finds its place at high-end malls. At Select City in Saket, one of Delhi's biggest malls, one gets to see the hep crowd and latest international brands, according to 21-year-old Kriti. "You get to see hi-fi women to middle class students coming here from across Delhi. It doesn't matter if you have the money or not. You can't tell by looking at them. Everybody looks rich and polished," says Kriti, who lives in Sangam Vihar.
However, Kriti who refuses to indulge in any conversation about politics and elections. "Meri life mein kya change hona hai. Barah Maiy ko de denge vote (Elections or no elections, my life will remain the same. I will go and cast my vote on May 12. What more do you want?)"
If Kriti is indifferent to the festival of democracy, Raghav and his wife Loni know the importance of their votes and the added responsibility. "We Indians still don't take our votes seriously. That shows how much we care for our nation," says Raghav. As if on cue, Raghav, a resident of Vasant Kunj, launches into a monologue about the external and internal threats to India. Interrupted for his views on who he thinks will form the government at the Centre, Raghav says, "Only one man has the ability to steer the nation in the right direction and that's PM Modi."
Told that he has the same name as one of the south Delhi candidates who doesn't really share the same feelings about the PM, Raghav smiles, "That won't change my opinion about the capabilities of our Prime Minister and how he has shown the corrupt dynasts their real place."
Tirgi, Sangam Vihar
The residents here are still reeling under the punch of Congress candidate Vijender Singh's recent rally. A young Rahul Singh says, "Inko dekh ke ek nayee josh aa jati hai (the sight of Vijender Singh fills one with new enthusiasm)."
Is that enough for him to vote for the Congress candidate?
"No, no, I'm not saying that's the only criteria. The country comes first and if it's about the nation's pride, Vijender made us proud with his Olympic medal. He is young, too. So definitely the youth have more expectations from him," he tries to justify his choice.
But barely four kilometres away at Subhash Camp, Priti begs to differ. Looking at a small crowd led by AAP candidate Raghav Chadha crossing her house, the 20-year-old looks visibly smitten. Ask her what she thinks about Chadha and she blurts out smilingly: "Sahi lagta hai. Ek dum young candidate hai (He looks young and fit to be a leader)."
But Vijender Singh too is young?
"He is good but doesn't have the same appeal," Priti covers her mouth to hide her excitement about Raghav Chadha.