Delhi belongs to no one and everyone, says Mohammad Faizan from Bihar who has made the city his home for the past 20 years. "Everyone is a migrant here. But for Delhiites, I'm a Muslim first and a Bihari later. All others are Bengalis, Malayalis, Tamils, Punjabis, Biharis etc. But if you are a Muslim, for non-Muslims that becomes your first pehchan (identity)."
Faizan works at an apartment complex in East Delhi–Punjabi Saudagar Apartments–which is known in the locality as one of the two Muslim-populated societies in East Delhi (the other one is Abul Fazal Apartments, in nearby Vasundhara Enclave). There is a third one–Azad apartments in IP Extension, East Delhi. But this society, even though comfortably located with all modern amenities is considered more crowded and with cramped parking spaces.
According to property dealers in the area, Punjabi Saudagar Apartments is exclusively for Muslims. People from other religions are not rented out or sold flats here. "Even the maids and other staff members working in the building are all Muslims," says a property dealer from the area. But when The Federal visited the society, one of the two guards at the gate who greeted this reporter in, was Radhe Shyam.
Advertisement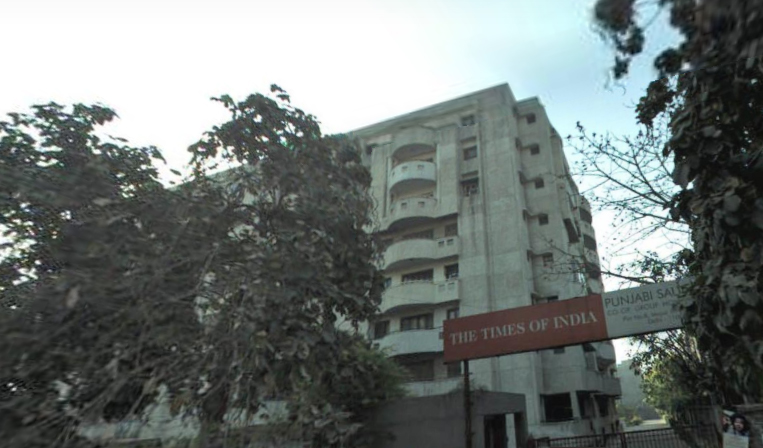 Outside the apartment complex and next to the main gate, a tailor who sits with his sewing machine and a small pile of clothes by his side, however, says with a slight hesitation. "Yes, these flats are not for gair-Musalman (non-Muslims). Rest is fine. It's quite safe here to live for everyone. No one bothers anyone here. This entire locality and residents of the nearby buildings are very nice"
But Faizan disagrees. "Residents of this society are all educated, liberal and secular Muslims. In my seven years of working here, I have never come across any non-Muslim approaching us for a flat here," he says, adding that out of the total 109 flats in the society, there are a few units occupied by couples of interfaith marriages. "Inter-faith couples who find it a problem living elsewhere come here."
Delhi, essentially a city of migrants, has always been a melting pot with people from across the country coming here to study, work and live. But for the Muslim-population in the national capital region, finding a place to live, especially on rent, can be a painful exercise.
"I have been living and working here for 10 years now, yet every time I have to move in to a new place, house-hunting becomes a nightmare. People are reluctant to rent out their properties to Muslims. But they won't tell you that upfront. It's always a sly "we-have-already-given-it-to-someone-else" or "we-have-sold-the-house" excuse that you get once they come to know of your religion," says Mohammad Abbas. He adds that it is this kind of attitude that forces Muslims to move into area with dense Muslim population like Jamia Nagar in Muslim-majority Okhla, Zakir Nagar, Mehrauli, Nizamuddin, etc, and become a part of the urban ghettoisation of Muslims. However, there seems to be very few options for those who don't want to be part of these typical ghettos.
Many claim things deteriorated in the 1990s after the Babri Masjid demolition and worsened over the years with rising terror attacks and riots across the country. Finding a house to live became a major issue for Muslims and continues to be one. The only difference is it has been normalised now. "People don't talk about it much. Even Muslims have stopped complaining. Now, house owners don't tell you directly why they won't let you in. Moreover, property dealers don't take up such cases," says Abbas.
A property dealer from South Delhi's Safdar Jung who earlier used to operate in East Delhi, confesses, "We avoid taking up such cases as non-Muslim owners fear their houses will be used for unwanted activities."
East Delhi is also known as 'Bihari Delhi' among the middle and upper-class Delhiites of west and south Delhi mainly because of the concentration of the migrant population here. Yet over the years, Mayur Vihar, where Punjabi Saudagar Apartments is located, has become a magnet for middle and upper-class migrants who have made Delhi their home.
While unauthorised colonies in trans-Yamuna areas like Mustafabad and Seelampur became homes to economically backward Muslims, the well-off try to own properties in Jamia Nagar and nearby areas in Okhla. "Owning a house or staying as a tenant for a Muslim in non-Muslim areas is not a pleasant experience. Why else would so many well-educated and well-to-do Muslims still live only in this locality?" asks a property dealer, adding that living in areas like Jamia Nagar is not necessarily a peaceful experience, especially when the place has been branded 'mini-Pakistan' and a terrorist hotbed.
Many complain they are tired of the stereotyping and ghettoisation. Keeping these problems in mind, a developer in Greater Noida in the National Capital Region, came up with a housing project in 2014. In the initial days the builder–Adarsh Group–promoted the apartments as "dream homes for the elite Muslim brotherhood". While many, including Muslims, raised questions over the "attempt at creating high-end ghettoes", others said it seemed like a practical solution in a country where Muslims often find it difficult to rent or buy houses.
Columnist Salil Tripathi in an article in "The Mint" had argued at the time that the Noida project was the consequence of the fact that Muslims face bias in the rental and real estate market in urban India.
"These are dream houses for Muslims with a best-in-class living experience. We have been able to make it a reality after a long struggle," says Saleem Zafar, managing director of Adarsh Group. According to Zafar, the project has been a success as all units have been sold and fully occupied now. "I have been receiving a lot of demands from people for more such Muslims-only society. We are soon coming up with one more project. Muslims should get a chance to move out from cramped colonies and shift into plush apartments like this."
But does living in a "plush, secular" locality make a difference to the life of a Muslim?
"Mayur Vihar is quite liberal because of the people who live here," says Nazeem, a resident of Punjabi Saudagar. "Nobody cares for anybody else's business. Yet there is no escaping the fear of being a Muslim every time there is a Hindu-Muslim riot or a terror attack anywhere else in the world." Nazeem says the fact that their society is not very far from Trilokpuri, a communal tinderbox, is another reason for fear among residents.
In 2014, a small fight near a makeshift temple in Trilokpuri snowballed into communal riots leaving at least 50 people injured. Violence started after a group allegedly began building a temple near a mosque. In 2015, a parking dispute turned into Hindu-Muslim clashes. In 2016, two groups of youth clashed at Trilokpuri, near Madina Masjid, over a Mata ki Chowki (Hindu devotional programme). Some people objected to the use of loudspeakers and soon people started pelting stones at each other.
Every time there is tension, even an educated, secular Muslim becomes a "mullah" for non-Muslims even in a cosmopolitan area like Mayur Vihar. You can always feel the political undercurrents.
"We have been celebrating Independence Day and Republic Day in our society for long but we don't organise any event to celebrate any religious festival, including Eid. People go and visit each other's place, but we don't put up stalls like most other societies do during Diwali and Durga Puja. It's strange why the Indian Muslim has to keep proving his love for the country at every step of his life," says Akram, another resident.
Nazeem concurs. "In the aftermath of the horrific Pulwama attack, we took out a candlelight march in the area. We don't need to be taught how to love for our nation. We are Indians and will remain so." Nazeem, however, says he didn't join some other rallies after the IAF airstrikes on Pakistan because those took a religious colour. "You have seen how Kashmiris were targeted in many localities."
"During such situations, Muslims start to stick out like a sore thumb even in 'secular' societies. It's like watching a 3-D film, where you can see every aspect and bias of the society becoming more and more pronounced," says Fahim, a resident of Abul Fazal Apartments.
Living life anew

Total population of Delhi: 11,034,555
Number of Muslims: 1,410,041
According to Census 2011, Muslims are minority in Delhi state with 12.86 per cent of the total population. Hindus comprise 81.68 per cent of Delhi population. In all, Hinduism is the majority religion in 9 out of 9 districts of Delhi state.
Despite the sometimes-blatant, sometimes-subtle social discriminations faced by the community at different levels, Muslims like Faizan, Nazeem and Fahim feel politics and the political party in power have a huge role to play in emboldening or supressing such anti-Muslim feelings.
"The Hindu-Muslim divide has become more severe in the last five years. Muslims are scared to express their views openly. Even children are not spared. This politics of hate has reached everywhere from playgrounds to cinema halls. Delhi has Aam Aadmi Party's government but it's the BJP's that rules the Centre," says Faizan.
Whatever happens between Hindus and Muslims in any remote part of the country, repercussions are felt in the national capital. The politics of hate migrates to Delhi and continues to rule the migrants, he adds with a faint smile.