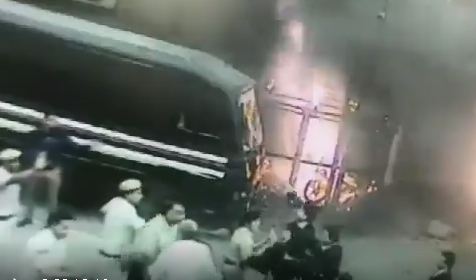 A fresh CCTV footage of the cop-lawyer clash at the Tis Hazari court on November 2, shows a group of lawyers purportedly chasing Deputy Commissioner of Police (DCP), North District, Monika Bhardwaj who in the video seems to be attempting to talk to them.
The video shows Bhardwaj, being shielded by a few colleagues during the scuffle.
Reports said police are probing the case and the CCTV camera footage is being examined. Even though a separate FIR has not been filed in this regard, Delhi police said additional legal sections will be added to the existing FIR against the lawyers for their alleged role in the Tis Hazari violence, reported Hindustan Times.
Delhi Police spokesperson Anit Mittal told HT that a special investigation team of the Crime Branch is studying all the CCTV footage of Saturday's incident and will record statements of all officers who were part of mob control duty that day, to take a final call on new offences and legal sections. He said the statements will include that of DCP Bhardwaj.
Taking suo moto cognizance of the matter, the Delhi High Court on Thursday (November 7), directed Police Commissioner Amulya Patnaik to transfer two IPS officers – Special Commissioner of Police (Law and Order), North, Sanjay Singh and Additional Deputy Commissioner of Police (North) Harender Kumar Singh – in the aftermath of the clash. The court also directed Delhi police not to take any coercive action against any lawyer.
Around eight lawyers and 20 policemen sustained injuries in the clash which erupted from a tiff between a policeman and a lawyer.
(With inputs from agencies)