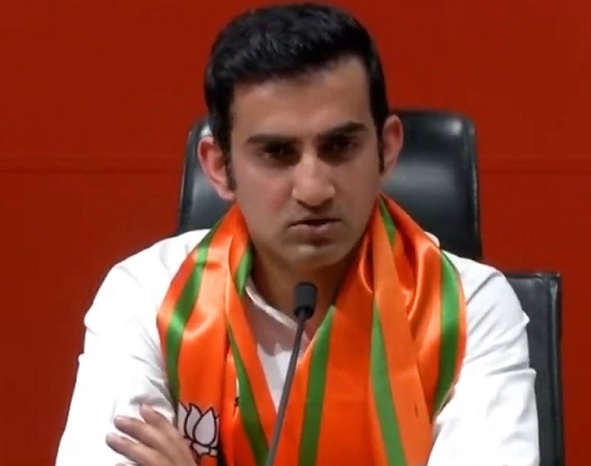 Standing next to a pan shop at Pandav Nagar in East Delhi on a sultry May evening, a salon-fresh Vinod Kumar looks somewhat flustered. The 21-year-old says he had gone to attend an event where Bhojpuri 'superstar' Pawan Singh was singing but it was "choc-a-bloc".
"Bapre itni bheed thi hum toh gate he se wapas chale aaye… Pawan Singh ek gana bhi gaye. (There was so much rush, I came back from the gate. Pawan Singh sang a song as well)," Kumar says adjusting his newly acquired mohawk.
But it was not the Bhojpuri singer that youngsters like Kumar had gone to see. "I had actually gone to see Gautam Gambhir. It was a BJP jan sabha (public gathering) for Gambhir. Par woh toh kuch bolta hee nahin (but he doesn't talk much)," says Kumar, who feels the BJP's East Delhi candidate Gautam Gambhir looks more disenchanted than the public.
"When I reached the venue, Pawan Singh was talking. Someone told me I'm right on time because Gambhir is yet to talk. But Pawan Singh kept on talking and when Gambhir finally came, he hardly talked for a minute. That is when I thought there was no point sweating it out amid the jostling crowd," Kumar says.
Advertisement
In nearby Archarya Niketan market, a 32-year-old garment shop owner who didn't wish to be named says he loves the fact that a renowned cricketer has come to contest from the East Delhi seat but Gambhir looks ill-prepared. "Lagta hai unhone theek se homework nahin ki (It seems he hasn't done his homework properly). But let's cut him some slack he has just joined politics."
The young politician, the shop owner says, is always surrounded by so many people. "His rallies are big and draw huge crowds but somehow there is no direct contact. He doesn't look comfortable. Or maybe that's his personality."
In politics, one needs to be more approachable. Gambhir, many ordinary voters including BJP supporters, say comes across as distant. Yet, his chances of winning are big. Why? "Humara vote toh Modiji ke liye he hoga (Our votes will be for Modi)," says Ajay, who works at a digital photo studio and colour lab.
Blast from the past
The BJP's newly minted leader is already firefighting charges of being a "saryal" (grumpy, ill-tempered) and "full of arrogance" by none other than former Pakistan captain Shahid Afridi. In his recently released autobiography, Game Changer, Afridi has slammed Gambhir saying that the latter lacked personality and has an attitude problem.
"In Karachi, we call guys like him saryal (grumpy)… I like happy, positive people. Doesn't matter if they are aggressive or competitive, but you have to be positive and Gambhir wasn't."
Gambhir, known for his aggressiveness both on and off the field, especially on Twitter, has suggested psychiatric treatment for Afridi.
While the new war of words between the two cricketers continued to amuse netizens, it definitely seems to have found its way into the poll scene in Delhi.
"Gambhir has no track record in politics to show his commitment. He could have done well to build a rapport with the public because of his successful cricket career. But instead, he looks too snooty," says the shop owner, adding that the East Delhi candidate talks only about Modi's achievements. "He has taken it for granted that people will elect him because of Modiji."
Election of issues
In a contest where Gambhir is facing Aam Aadmi Party's Atishi and Congress's Arvinder Singh Lovely, the cricketer-politician in the last fortnight has been aggressively attacking the Aam Aadmi Party. But the fact that he declined to accept Atishi's "open challenge" for a debate has not gone in Gambhir's favour. Initially, he ducked the challenge saying that he believes in positive politics. He is now heard telling mediapersons that "the AAP has spent four-and-a-half years in politics whereas it's been just four-and-a-half days for me [Gambhir]". He has even challenged Delhi CM Arvind Kejriwal for a debate. "When I did not get scared of Pakistan, how can I get scared of debate. He took four-and-a-half years… He must give me half of that time, then the date and place will be decided by him."
To this, Atishi has asked him to fight the election after two-and-a-half years only when he is "completely prepared".
The AAP candidate has unleashed a stream of attacks on Gambhir in the recent past. She first attacked him for allegedly possessing two voter ID cards (something that Gambhir has denied) and the fact that he was also pulled up by EC for conducting a roadshow without permission.
Facing the sudden volley of attacks, one would have expected Gambhir doing a course-correction. Instead, he has gone on the defensive without his pads on.
When asked about his plans for East Delhi, he says, "I have a vision and I want to develop Delhi. Aam Aadmi Party says it will make Delhi like Paris and London. I don't want to make promises that I can't fulfil. I'll make Delhi a place that Delhiites deserve and can live in happily. I was born in Delhi and am connected to the people."
There are a number of similar "visions" that he talks about. "I'll work to fulfil the vision that our Prime Minister has for the country. He has done so much development work in the past five years. Also, the nation needs a strong and decisive leader like Narendra Modi," says the cricketer-turned-politician who claims he entered politics because he wanted to implement what he has been talking about on Twitter. However, before joining politics, Gambhir was seen mostly tweeting about 'nationalistic' issues.
Star candidate or BJP campaigner?
It sometimes gets confusing if he is in the poll fray himself or just a star campaigner for the BJP. His limited grasp over the situation on the ground seems to have disappointed his fans as well. "I'm a fan of Gautam Gambhir the cricketer. But not sure of his politics… He doesn't have an answer for anything asked out of the textbook," says Manish Kumar, a resident of Mayur Vihar.
He was talking about Gambhir's first press conference after the latter's candidature was announced.
"When reporters asked him about how many Assembly constituencies does East Delhi have or wards BJP won in municipal polls, he knew the answers [10 and 39 respectively] but as soon as someone asked him if he knows about the problems at the Ghazipur landfill, he excused himself saying it has been just a few days since he joined the BJP." With one week remaining for the May 12 polls, Gambhir has now started sprinkling the name of Ghazipur landfill in his "vision for East Delhi".
But what are his plans for East Delhi? "Delhi needs clean air, drinking water and multi-level parking. Those are the basic needs of the people," he says.
However, during a video interview when asked about the performance of the BJP-ruled Delhi Municipal Corporation, Gambhir first fumbles and then says "because the Aam Aadmi Party doesn't want the MCD to work". "I spoke to people in East Delhi municipal corporation and they said they don't get enough funds. The funds that they deserve are not given by the AAP," says Gambhir. To put things in perspective, the municipal elections of April 2017 saw the BJP winning the highest number of seats. This was the BJP's fourth consecutive victory after running the MCD for almost 12 years.
Campaigning against the BJP?
Gambhir, his critics say, is not just exposing himself but also his party. "When he says he doesn't want to make big promises that he can't fulfil, it looks like he is talking about the BJP," Kumar laughs, adding that he is all over TV channels saying things about opposition parties which are more applicable to his own party.