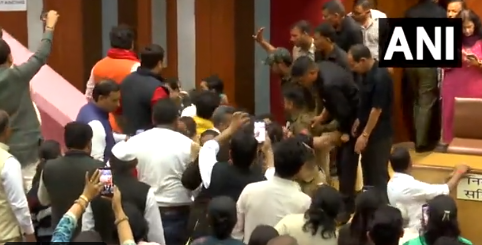 A scuffle broke out between AAP and BJP members of the MCD. Image: Twitter/ANI
The Municipal Corporation of Delhi (MCD) House on Friday (February 24) witnessed scenes similar to the one on Wednesday, when councillors from both the AAP and the BJP raised slogans and disrupted the proceedings. This is the third day of commotion in the House.
The chaos followed moments after newly elected Mayor Shelly Oberoi questioned the validity of one vote, thereby declaring it invalid. Ruckus ensued soon after her declaration. She remained firm on her decision to not allow the recounting of votes. BJP councillor Kamaljeet Sherawat claimed that the Mayor did not want to declare the final outcome.
Earlier in the day, Oberoi had agreed to the BJP's demand to conduct fresh voting for electing members to the Standing Committee. Then, 242 members exercised their right to elect six members of the committee.
AAP leader Saurabh Bharadwaj claimed that the party received 138 votes and the BJP received less. Eight councillors —  Mandeep Singh, Ariba Khan, Nazia Danish, Sameer Ahmad, Shagufta Chaudhary Zubair, Sabila Begum, Naziya Khatoon and Zarif — did not cast their vote.
Also read | Fresh violence in JNU: Was it more than just an ideological scuffle?
On Wednesday, after the successful completion of the polls for the Mayor and Deputy Mayor, the House descended into complete chaos, as AAP and BJP councillors exchanged blows, and at one point even resorted to flinging water bottles, fruit and ballot boxes at one another, resulting in over a dozen adjournments.
What caused the standoff?
When the house met around 6.30 pm on Wednesday to begin the process of electing members to the Standing Committee, BJP members were adamant on mobile phones being banned from the voting booth. However, Oberoi decided to permit councillors to carry their phones while casting their votes. Though she withdrew her decision later, by then over 45 votes had been cast.
BJP councillor Sharad Kapoor approached the Delhi High Court on Friday, alleging that  Oberoi defied established norms and propriety by allowing the use of mobile phones and pens during the polls. Justice Purushaindra Kumar Kaurav listed the matter for hearing on Monday at the request of the petitioner's counsel.
The Standing Committee holds importance as it plays a powerful role in the city's civic body. The committee has the power to grant financial approval to projects, appoint sub-committees and hold discussions and finalise policies.