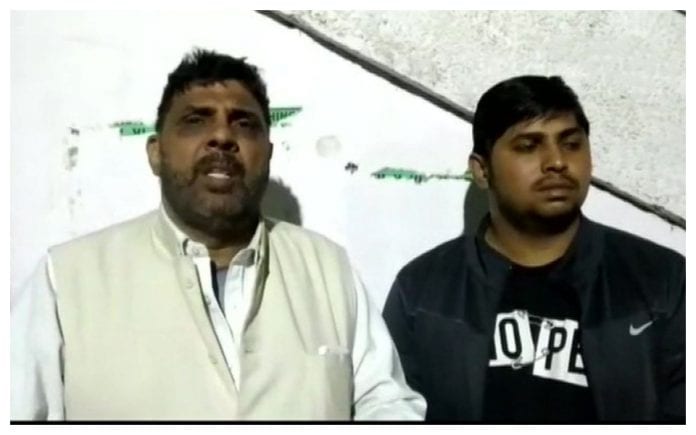 The father of Kapil Baisala, the shooter at Shaheen Bagh, added another twist to the on-going controversy by claiming his son was a 'sewak' (supporter) of Prime Minister Narendra Modi and Union Home Minister Amit Shah.
"My son is a supporter of Modi and Amit Shah. He always speaks of Hindustan and Hindutva," ANI quoted Gaje Singh as saying.
Justifying his son's actions at Shaheen Bagh, he said, "Baisala was troubled over the roads being blocked at Shaheen Bagh" as it took him four hours, to reach his work place, instead of one," and claimed that was the reason behind him opening fire in the area.
Advertisement
His statement appeared contradictory since he had said just a few hours ago that neither he nor his son had anything to do with politics.
Also read: If Shaheen Bagh shooter belongs to AAP, give him double punishment: Kejriwal
The father's claim comes amid an ongoing blame game between the Bharatiya Janata Party (BJP) and the Aam Aadmi Party (AAP) over which party the shooter at Shaheen Bagh belonged to.
The Delhi police had said on Tuesday (February 4) that the shooter Kapil Baisala — who had shouted "Jai Shri Ram" before opening fire — was a member of the AAP.
Baisala's family, however, refuted the claim immediately. Baisala's uncle Fatesh Singh said, "My nephew Kapil has had no association with any political party nor does any other member from the family. My brother, Gaje Singh, (Baisala's father) fought assembly elections in 2008 on a Bahujan Samaj Party (BSP) ticket and lost. Apart from that, no one from our family has had any links with any political party."
Singh added that Baisala didn't have friends associated with the AAP or any other political party.
Also read: Shooter at Shaheen Bagh an AAP member, say police
A photo of Baisala and his father wearing the trademark AAP cap was shown as evidence to prove that he was a member of the AAP.
However, according to NDTV, Gaje Singh said, "Neither I nor my family have anything to do with AAP. They came to campaign during the Lok Sabha elections (last year) and made us all wear AAP caps and that is what the photo shows." He also insisted that his son had nothing to do with politics.
Hours later, Singh claimed the exact opposite about his son.
The accusations over the shooter's link to AAP triggered a sharp retort from AAP chief Arvind Kejriwal, who said Union Home minister Amit Shah was using the Delhi police to engage in "petty conspiracies" just two days before the polling for the Delhi Assembly elections.