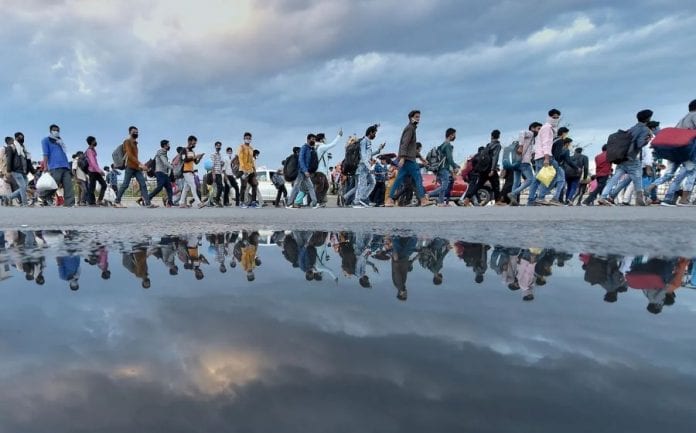 When Prime Minister Narendra Modi announced on March 24 the world's largest coronavirus lockdown, 21-year-old Umar Farooq could not listen to the PM's address to the nation. The room he had rented and has been sharing with two other people in Southwest Delhi's Matachawkpur has no space for a television.
Umar and six of his friends — all from Jammu & Kashmir's Sopore — work as daily-wage wedding caterers in Delhi. As economic activity in the national capital had flagged towards the beginning of this year, the group had last found a work on February 16. They had already exhausted their money by the time the lockdown was enforced to contain the spread of the novel coronavirus.
Although the Aam Aadmi government announced free supplies for 10 million ration cardholders and 3 million non-ration cardholders, along with free cooked meals for thousands in the city, there are many shortcomings on the ground. Some have been asked to produce their Aadhaar cards along with ration cards, while some others have been asked to bring their wives' cards.
Many people without ration cards have simply been shown the door. Even the news of cooked meals being distributed in community buildings and government schools has not reached many while those who had had the meals are unhappy with the quality.
Related News: Haryana: Over 1 lakh migrants apply for return; 74.5% from UP, Bihar
"For over two weeks, we struggled to sustain ourselves. On some days, my wife, my eight-year-old son and I ate just rice with salt," says 42-year-old Rakesh Kumar, an artisan at a stitching factory who holds a Bihar ration card.
Rakesh did not know that free cooked meals were being distributed twice a day at a community centre barely two kilometres from his residence in Shakurpur. When he learnt, he lined up for two hours in scorching heat to get his share. "The food tasted stale and the dal had small stones (kankar) in it. But that was still better than having to eat just rice," he says.
But, for the seven Kashmiri men — in their early twenties — problems kept increasing as the lockdown was extended. For non-ration cardholders, the Arvind Kejriwal-led Delhi government created a system of online applications to avail of free essentials. This meant that one must have access to a working smartphone and the knowledge of navigating the internet.
Of the seven men, only three had smartphones. "We tried to apply online, but the link would keep getting refreshed. We would wake up at odd hours hoping that the internet traffic would be down and our form would be submitted. After hundreds of failed efforts, we tried calling the district officer several times, but to no avail," says Umar with a cracked voice.
Related News: Karnataka resumes train services, but wait gets longer for migrants
With no money, food and expectations of receiving any aid, two of the seven men — Jaffar Ahmad and Azhar Rashid — sold their smartphones for ₹2,200 and ₹6,500 — way below their original prices of ₹5,500 and ₹9,000 respectively. That left just one mobile phone for all seven.
Having raised ₹8,700, the men bought essentials, including a gas cylinder, stove and utensils, for cooking food. That sustained them for a month into the lockdown. By April 30, that money also dried up and they again found themselves without any means of survival.
Even worse, one of them fell ill and urgently needed medicine. "I requested the shopkeeper at a medical store to give some medicine for fever, but he refused to do so without payment. So, I convinced him to keep my Aadhaar [card] and give me the medicines, worth ₹200," says Umar. When that worked, they pawned two more Aadhaar cards at grocery stores for ₹600 and ₹100 worth of rations.
All this while, their landlord had been forcing them to pay the rent — ₹3,750 for one room shared by three and ₹5,000 for the other occupied by the other four — despite the government advisory to refrain from doing so. Finally, on May 8, the landlord gave them an ultimatum to either pay at least ₹3,000 or vacate the premises by 5 pm.
Related News: TN govt's laxity forces migrants to take to the streets or hit the road
When Umar tried contacting his father for some monetary aid, he could not get through to him. He then learnt that mobile and internet services had again been suspended in Kashmir since May 6. As a last resort, he reached out to the police, who ordered the landlord to let the men stay without rent until the lockdown was in force. Now, though they had a roof over their heads, they did not have any food to cook in their newly-acquired utensils.
Keeping his hopes limited, Umar then reached out to Sandeep Rauzi, founder of media organisation Workers Unity, to highlight the issues of workers across the country. Rauzi's organisation has also been distributing ration to workers since "the government has failed to do so". Along with the rations to last until May 17 (the last day of lockdown 3.0), Sandeep gave the men ₹900 to retrieve their Aadhaar cards.
Bhupinder Singh Joon, the AAP MLA from Southwest Delhi's Bijwasan Assembly constituency, where these men reside, says, "We are trying to help as many people as we can. Every day, we are distributing 700-800 food packets and additionally feeding at least 1,000 people in two government schools in the area. If the e-coupons are not accessible to anyone, we are catering dry ration/meals to people on request."
It has become evident that those employed in India's informal sector, which comprises 85 per cent of the country's workforce, have been most affected by what the International Monetary Fund has termed "a crisis like no other". Their livelihoods have been disrupted and future prospects appear bleak.
Even if COVID-19 spares India the havoc it has wrought in developed nations like Italy and Spain, it has undoubtedly exposed two major issues — the inability of the central and state governments to deal with unforeseen emergencies, and the deep social inequalities in our demography.