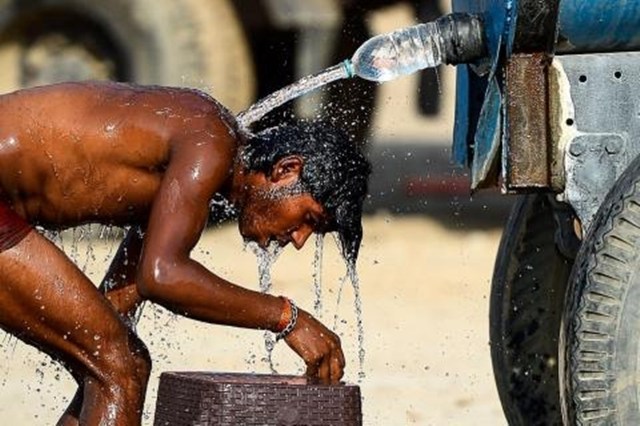 The national capital is expected to continue experiencing heatwave conditions on Tuesday (May 23), with the maximum temperature likely to reach around 43 degrees Celsius. However, the weather office has predicted the possibility of light rain or drizzle later in the day.
Delhi is reeling under scorching heat for the past several days with the mercury even breaching the 46-degree mark in parts of the city on Monday.
Also Read: Blistering heatwave scorches parts of Delhi, mercury soars to 46 deg C
A minimum temperature of 29.8 degrees Celsius, three notches above normal, was recorded on Tuesday morning.
The relative humidity stood at 38 per cent at 8.30 am.
The India Meteorological Department (IMD) said the maximum temperature on Tuesday is expected to hover around 43 degrees Celsius.
It has also forecast a generally cloudy sky with light rain or drizzle later in the day.
A blistering heatwave has swept parts of Delhi, straining power grids and posing challenges to outdoor labourers, homeless people and animals.
Also Watch: Heatwave conditions return in Delhi
The IMD has predicted that similar conditions would continue before rains bring some relief from Wednesday onwards.
Delhi's primary weather station, Safdarjung Observatory, recorded a maximum temperature of 43.7 degrees Celsius — four notches above normal and the maximum so far this year, on Monday.
The mercury soared to 46.2 degrees Celsius at Najafgarh, making it the hottest place in the capital.
Narela (45.3 degrees Celsius), Pitampura (45.8 degrees Celsius) and Pusa (45.8 degrees Celsius) also recorded heatwave conditions.
The threshold for a heatwave is met when the maximum temperature of a station reaches at least 40 degrees Celsius in the plains, at least 37 degrees Celsius in coastal areas, and at least 30 degrees Celsius in hilly regions, and the departure from normal is at least 4.5 degrees Celsius.
(With agency inputs)