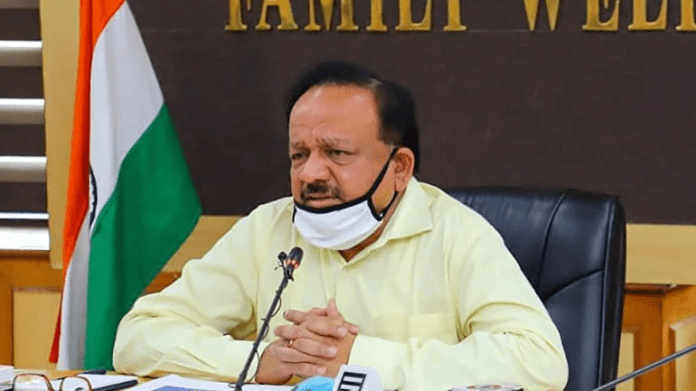 Union Health Minister Harsh Vardhan on Monday (May 4) said Delhi should allow only minimum relaxations and that stringent measures are necessary to tackle COVID-19 in the Union Territory, adding that this was his personal opinion.
His remarks came after Delhi Chief Minister Arvind Kejriwal said on Sunday (May 3) that Delhi is ready to lift the lockdown in line with the Centre's revised guidelines.
"It's not correct for me to comment on the situation in the city (Delhi) as it may be considered a political statement. However, personally, I feel that Delhi is one of the few states in the country where stringent measures are required to tackle the pandemic," Dr Harsh Vardhan told reporters.
"Only minimum relaxations should be allowed. While the home ministry has given detailed guidelines, each state has to take a decision considering the situation or the extent of the outbreak," he added.
#WATCH Delhi is one of the places where considering the current status, more stringent action needs to be taken. I think that minimum relaxations should be given by Delhi Govt amid #CoronavirusLockdown to curb the spread of #COVID19: Union Health Minister Dr. Harsh Vardhan. pic.twitter.com/hHB5xQdXWe

— ANI (@ANI) May 4, 2020
The total number of infected cases in Delhi has crossed 4,500, with the number at 4,549. The death toll in the Union Territory stood at 64 as on Monday.
However, Kejriwal had said the national capital was ready to lift the lockdown while addressing a press conference. "The time has come to re-open Delhi. We will have to be ready to live with coronavirus," he had said.
He added that Delhi was prepared to ease restrictions "in places other than containment zones" since Delhi was "prepared in terms of hospitals and kits".
Meanwhile, with the relaxation of the lockdown across the country, specifically in orange and green zones, streets and roads were bustling with activity, with people moving about and going to work or buying items.
People were also seen crowding at liquor shops, which were reopened on May 4, and flouting social distancing norms. Soon after, policemen were required to bring the crowds under control.
In several parts of Delhi, liquor shops were shut again following the waves of people that turned up to buy alcohol.
Related news | Lockdown 3.0: Your frequently asked questions answered here
Essential services and manufacture of IT hardware and other goods are allowed during the lockdown.
Private sector offices can function with 33% workforce. Government offices will function with officers of the level of deputy secretary and people from higher positions. The remaining staff can operate with the 33% strength.
However, these restrictions will not apply to defence and security services, fire and emergency services, and customs and municipal services, among others.
Weddings and funerals can be conducted, with a maximum of 50 and 20 people respectively.
All standalone shops (including those in residential complexes) selling essential and non-essential items can function, but social distancing must be ensured.
Self-employed people like household help, plumbers, electricians, and technicians can resume their work.