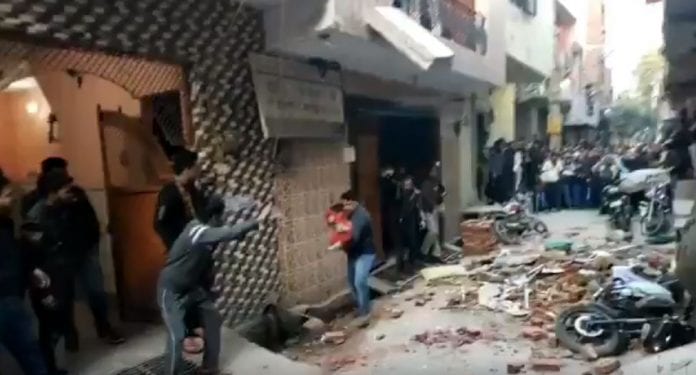 Five people, including four students, were killed when a floor of a building collapsed in the city's Bhajanpura area on Saturday (January 25), fire officials said.
They said around 30 students were attending classes at a coaching centre when the fourth floor of the building collapsed, trapping them under the debris.
The fire department received a call around 4.30 pm, following which seven fire tenders were rushed to the spot, they said, adding that rescue operations are underway.
Thirteen people have been shifted to a hospital and three students are still missing, Atul Garg, Chief of Delhi Fire Service, said.
A coaching centre that was under construction was being run in the building, another fire service official said.
Meanwhile, Delhi Chief Minister Arvind Kejriwal visited the site of the accident to assess the situation. He said, "What has happened is very upsetting. The construction was going on illegally. We'll give orders to investigate how MCD allowed it."
He also said that he will request the Election Commission to allow them to provide ₹10 lakh as compensation to the victims' families.
He had earlier said on Twitter that he had received "bad news" from Bhajanpura and that he would reach the accident spot soon.
भजनपुरा से बहुत बुरी खबर आ रही है। भगवान सब को सलामत रखे। थोड़ी देर में वहां पहुंचूंगा। https://t.co/LZojwG18b0

— Arvind Kejriwal (@ArvindKejriwal) January 25, 2020
BJP MP Manoj Tiwari too visited the site of the collapse. He expressed grief on Twitter and said that he was "deeply saddened by the four painful deaths in Bhajanpura."
भजनपुरा में बिल्ड़िंग गिरने से हुई 4 दर्दनाक मौतों से बेहद दुःखी हूँ। ईश्वर दिवंगत आत्माओं को शान्ति दें। मैं जल्द भजनपुरा पहुंच रहा हूँ। इस दुःख की घड़ी में मैं पीड़ित परिवारों के साथ खड़ा हूँ।

— Manoj Tiwari (@ManojTiwariMP) January 25, 2020
He also said that the BJP has announced a ₹2 lakh compensation each to the families of those who died in the floor collapse and that the injured will receive ₹25,000 each.
Lt Governor for Delhi Anil Baijal tweeted that he was "deeply saddened to learn about the tragic deaths of the innocent children" in the collapse.
Deeply saddened to learn of the tragic deaths including those of innocent children during the building collapse in Bhajanpura, East Delhi. May God give strength to their family and loved ones to deal with this tragedy.

— LG Delhi (@LtGovDelhi) January 25, 2020
(With inputs from agencies)