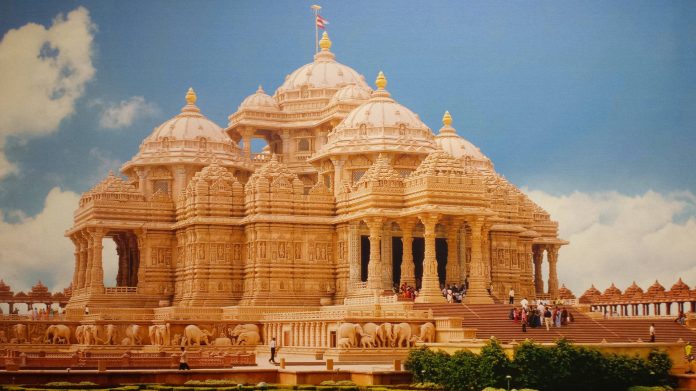 Swaminarayan Akshardham Temple, located in East Delhi, will reopen for visitors from October 13 after months of being closed due to COVID-19.
The visitors will have to follow strict COVID-19 rules such as mandatory use of face masks and undergo thermal screening before entering the premises, the temple management said.
Devotees will be allowed to enter the temple between 5 pm and 7 pm. The musical fountain will be opened while the exhibition hall will remain shut.
Before entering the temple, the visitors will have to go through thermal scanning and hand sanitization. Anyone with a higher than normal temperature will not be allowed inside. The temple will be closed on Mondays, reports said.
Related news: 351 servitors of Puri's Jagannath Temple infected with COVID since Aug
The famed temple was officially opened on November 6, 2005 and is built according to the Vastu Shastra. Over 25,000 people visited the temple every day before the outbreak of COVID-19 pandemic.
With October marking the start of the festive season, the Union Ministry of Home Affairs, in its Unlock-5 guidelines has allowed more relaxations to COVID-19 lockdown rules while giving states more flexibility on deciding the resumption of several activities. However, with the MHA order preventing states from imposing local lockdowns, several governments have announced separate guidelines in accordance with the local situation.
Delhi has deferred the decision on implementing the relaxations, while Kerala, which has been witnessing a surge in COVID-19 cases in recent weeks, has banned the assembly of more than five persons till the end of this month.
Related news: Entry rule for non-Hindus triggers row at Tirumala temple
The national capital has seen its COVID-19 cases rise by at least a lakh in September. As per Kejriwal government order, schools, cinema halls and social, academic, entertainment, cultural, religious, political functions and other gatherings and large congregations will continue to be prohibited across the city till October 31.
The status quo comes with Delhi witnessing over 3,500 cases in the last few weeks and a high death rate. On Tuesday, Delhi reported 48 deaths — the highest single-day fatalities since July 16. However, the trial run of allowing bars and weekly markets has been extended till October 31. Two weekly markets are allowed per day per zone in all three municipal corporation areas.
The Union Ministry of Education on October 3 released guidelines for reopening of schools and colleges during Unlock 5.0. The latest guidelines released by the Centre said that schools, colleges and other educational institutions can also open outside containment zones after October 15. But the Ministry of Education has left the decision on reopening educational institutions in the hands of states/UTs.