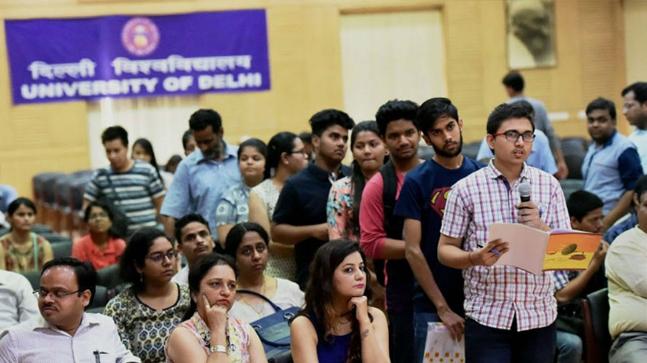 The counting of votes for the Delhi University Students' Union (DUSU) elections began on Friday (September 13), a day after students across different colleges under Delhi University voted for their desired candidates.
The results are expected to be out by Friday afternoon. Around 1.3 lakh students cast their votes. The voter turnout was recorded at 39.90 per cent, a four per cent drop compared to last year.
The DUSU elections are held every year by direct voting by the students of the Delhi University and affiliated colleges.
As many as 12 candidates from Akhil Bharatiya Vidyarthi Parishad (ABVP), National Students Union of India (NSUI) and All India Students Association (AISA) are in the race for the post of president, vice-president, general secretary and joint secretary. There are only four women contesting the elections this time, of which two are contesting independently.
Akshit Dahiya of BJP's student wing ABVP, Chetna Tyagi of Congress' NSUI, and AISA's Damini Kain are in the race for the post of president.
The contenders for the vice president's post are ABVP's Pradeep Tanwar and NSUI's Ankit Bharti. ABVP's Yogit Rathee has been pitted against NSUI's Ashish Lamba for the post of general secretary. ABVP's Shivangi Kherwal is fighting against Abhishek Chaprana of the NSUI for the post of joint secretary.
During the voting process, NSUI's Abhishek Chaprana was detained by Delhi police for allegedly canvassing for votes outside the Dayal Singh College against election norms. NSUI, however, claimed that Chaprana was illegally detained.