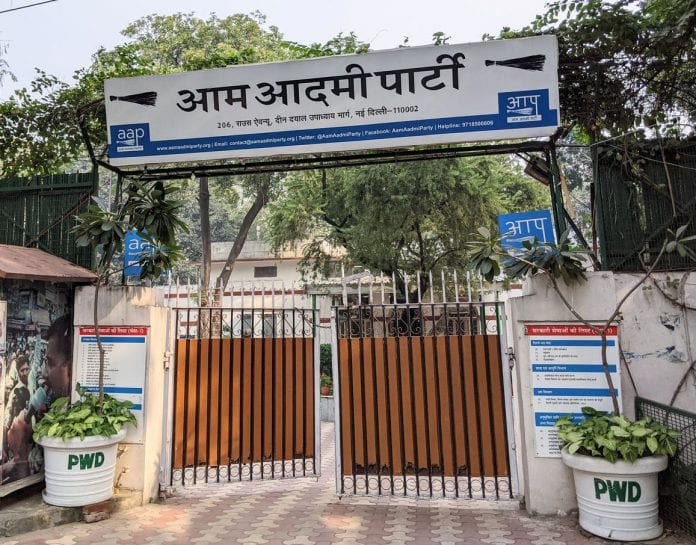 The Aam Aadmi Party will apply with the Union Housing and Urban Affairs Ministry next week for a plot of land to build its office in Lutyens Delhi area after Election Commission recognised it as a national party.
The Nationalist Congress Party and the Communist Party of India, which were derecognised as national parties by the poll panel on Monday, may be asked to vacate the government bungalows allotted to them on Canning Road and Purana Qila Road respectively, sources said.
The Purana Qila Road facility was allotted to CPI when it got the national party status during the tenure of AB Bardhan as general secretary, said CPIs present in-charge D Raja.
Raja currently stays in Vallabhbhai Patel House.
The fate of land allotted to the Trinamool Congress at central Delhis Deen Dayal Upadhyay Marg on December 20, 2013, is uncertain as the party has not constructed its office yet.
An official in the Union Housing and Urban Affairs Ministry said that once a plot is allotted to a national party by the Land and Development Department and the party constructs its office there, the land remains with it irrespective of whether it continues to hold a national party status or not.
An AAP functionary said the party will apply for land next week.
According to the rules, a party has to construct its office within three years of the allotment of land.
The Aam Aadmi Party will also get a government bungalow in central Delhi to run its office until it builds party headquarters on the plot of land allotted to it.
The president of a national party is also eligible to get a bungalow. However, if the person is already staying in a government accommodation, he is not entitled to get another bungalow.
This implies that AAP national convener and Delhi Chief Minister Arvind Kejriwal, who is presently staying at a state government accommodation in the Civil Lines area, will not get the new facility from the Union government.
The Aam Aadmi Party is currently running its office from a bungalow allotted to it by the Delhi Public Works Department on the DDU Marg.
On Monday, the Election Commission recognised the Aam Aadmi Party (AAP) as a national party and withdrew the national party status of the All India Trinamool Congress, Nationalist Congress Party and the Communist Party of India.
---
(Except for the headline, this story has not been edited by The Federal staff and is auto-published from a syndicated feed.)