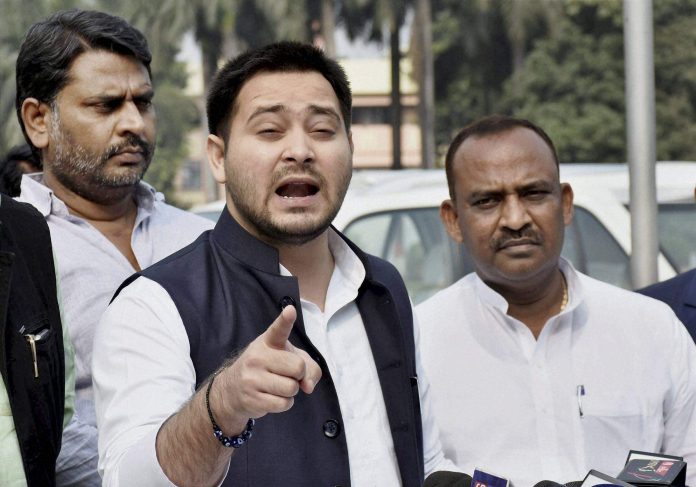 Rashtriya Janata Dal leader Tejashwi Yadav has said that his father, Lalu Yadav, will come out of jail on November 9 and a day later Chief Minister Nitish Kumar will have his farewell.
Speaking at an election rally in Hisua (Bihar) with Congress' Rahul Gandhi on stage, Tejashwi promised a victory for the opposition front he is leading in the assembly elections that start next week.
Tejashwi Yadav's Rashtriya Janata Dal (RJD) has formed a 'Grand Alliance' with Congress and Left parties to take on National Democratic Alliance which includes JDU, BJP and other smaller allies. Chiraag Paswan's LJP is fighting the elections on its own.
That is a truly humongous crowd for @yadavtejashwi . But no masks, no distancing ..#BiharElections could become a #Covid_19 super spreader https://t.co/Pg0eg2UQ9P

— Sagarika Ghose (@sagarikaghose) October 20, 2020
Advertisement
Lalu Yadav is in judicial custody in Jharkhand in a corruption scandal. He was granted bail by the Jharkhand High Court in one case, but the hearing was on in another case.
"Lalu ji is getting released on November 9. He has got one bail and will secure another on November 9, which also happens to be my birthday. The next day, Nitishji will have his farewell," Tejashwi Yadav said.
Yadav Junior did not miss an opportunity to take potshots at Nitish Kumar. He said the incumbent government has failed to eliminate corruption, create jobs and stop migration of workers to other states. "Nitishji, you are tired. You won't be able to take care of Bihar," said 30-year-old Tejaswi about Nitish Kumar, who is 69.
Also read: Political parties in poll-bound Bihar take virtual route for campaign
Commenting on the chief minister's statement that Bihar missed the industrialisation boom because it is landlocked, the Yadav scion reiterated his promise of creating 10 lakh government jobs if brought to power.
Tejashwi Yadav also attacked Prime Minister Narendra Modi, who has started campaigning in Bihar. "The PM has come to Bihar. I was expecting him to tell when Bihar will get the special state status and a special package," he said.
The state goes to polls on October 28, November 3 and November 7. The results will be declared on November 10.