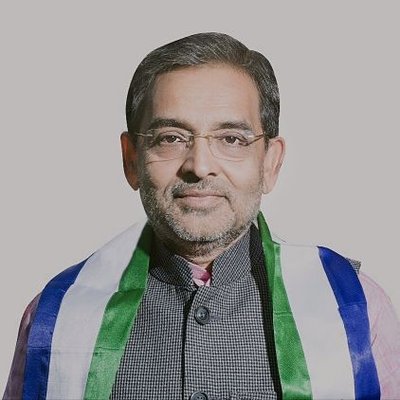 Former Union minister Upendra Kushwaha's Rashtriya Lok Samta Party (RLSP) merged with Bihar Chief Minister Nitish Kumar's Janata Dal (United) on Sunday.
The merger came eight years after the RLSP's split from the JD (U).
Kushwaha, who will be the parent party's parliamentary board chairman, addressed the media in Patna after the RLSP's national executive committee authorised him to decide on the party's future.
Explaining his decision, Kushwaha said the political situation in the country and in Bihar "warrants that all like-minded people come together… I have, therefore, decided that our journey shall continue under the leadership of my elder brother Nitish Kumar".
He said he had taken the decision in the "interest of the nation and the state".
"We were in talks with RLSP chief Upendra Kushwaha for quite some time. When I discussed it with my party members, they expressed their joy on his thought of merging the party with ours," Kumar said.
The RLSP suffered a major split on Friday when more than 30 state and district level office bearers of the party in Bihar walked over to the Rashtriya Janata Dal.
Also read: Growing unrest in NDA over ministerial berths leaves Nitish govt on razor edge
The defectors included state working president Virendra Kushwaha, state principal secretary general Nirmal Kushwaha and state head of women's cell Madhu Manjari Mehta.
The merger is expected to cement Kumar's traditional Kurmi-Kushwaha vote bank, which was split during the 2020 assembly elections.
In the eight years of its existence, the RLSP found a place in both the NDA as well as the RJD-Congress-led grand alliance in Bihar. Kushwaha was even named minister of state for human resource development during Narendra Modi's first term.
Last year, the RLSP fought the election in partnership with Aladdin Owaisi's All India Majlis-e-Ittehad-ul-Muslimeen and Mayawati's Bahujan Samaj Party, but it could not win a single seat.