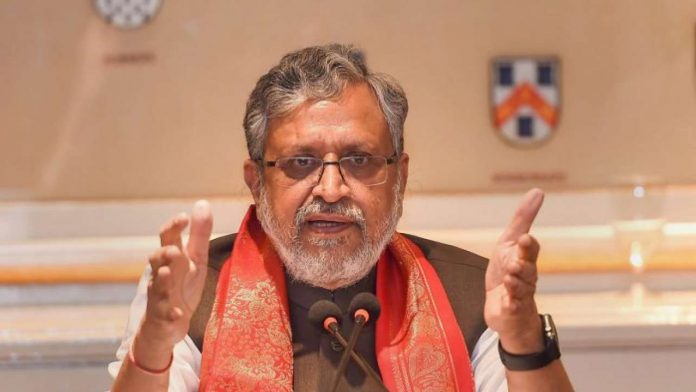 Nitish Kumar will continue to be the NDA's chief minister Bihar, but he is likely to have a new deputy amid speculations that BJP will give Sushil Kumar Modi a role at the Centre.
The BJP in Bihar elected Tarkishore Prasad, the MLA from Katihar, as the leader in the assembly and he will be the deputy chief minister in the Bihar cabinet headed by Nitish Kumar, who is likely to take oath as chief minister on Monday (November 16). Renu Devi, an MLA from Bettiah, has been elected as the deputy leader of BJP legislature party.    
Related News: On Bihar pitch, BJP emerges as the biggest hitter, followed by RJD
"I have been given this responsibility and I will carry out the duty to the best of my ability," Prasad told ANI after being elected as the BJP's legislature party leader. "I can't comment on it as of now," he said when asked if he would replace Modi as the deputy chief minister.
In a tweet, Modi said Prasad was elected unanimously as the BJP legislature party leader. "The BJP and the Sangh Parivar gave me a lot in my 40 years of political life. I will discharge whatever responsibility is given to me in future. No one can snatch away the post of a worker," he said in another tweet.
BJP leaders in Bihar said that besides having the deputy chief minister, the party may also demand the post of the speaker. The BJP has emerged as the single-largest party of the NDA, winning 74 seats against the JD(U)'s 43. The alliance emerged victorious in 125 seats — the two small partners in the alliance HAM and VIP won four seats each. 
Related News: Criminal cases pending against 68% MLA-elects in Bihar, says ADR
The NDA, however, elected Nitish Kumar of the JD(U) as its chief minister on Sunday. Kumar met the governor and has staked his claim to form the government. "We have submitted the letter of support of all four constituents of the NDA to the governor," Nitish Kumar said after the meeting. "As per his instructions, we will take oath around 4.30 pm at the Raj Bhavan tomorrow (Monday, November 16)," he said.