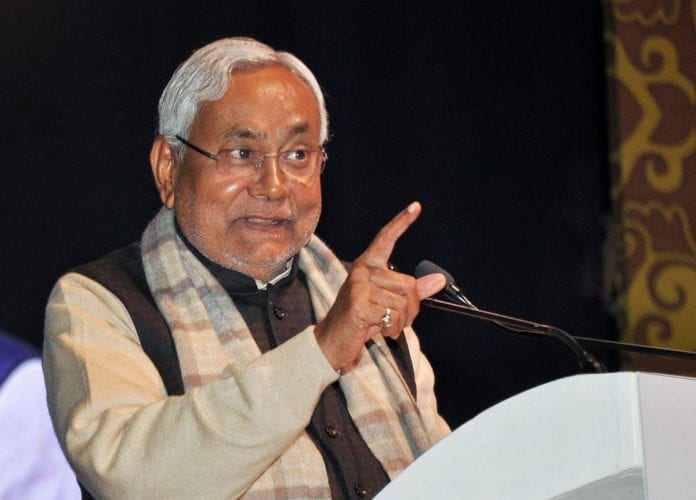 The daring murder of an IndiGo Airlines official, just 2 km away from Chief Minister Nitish Kumar's residence in Patna, on Tuesday (January 12) evening, has triggered demand for the CM's resignation. Even the BJP — an ally of the JD (U) in Bihar — has criticised the chief minister for the "deteriorating law and order in the state".
Nitish Kumar is also the home minister of the state.
Forty four-year-old Rupesh Kumar Singh was a manager with IndiGo Airlines. He was shot dead on Tuesday evening outside his home, located barely two km from the chief minister's house. The police said he was waiting in his SUV for the gates to open when two men on a motorcycle opened fire at him.
A few hours earlier, Singh was at the Patna airport when the COVID vaccine shots arrived. The police said the killers had probably followed him from the airport, which is about 3 km from Singh's house.
Also read: Tejashwi in overdrive on hope of mid-term polls amid uneasy BJP-JD(U) ties
A Special Investigation Team is probing the matter. Rupesh Kumar Singh has two children and was well-known in political and bureaucratic circles.
BJP member of parliament (MP) Vivek Thakur asked for a CBI investigation.
Rajya Sabha member Gopal Narayan Singh, who also belongs to the BJP, criticised Nitish Kumar for "losing control over law and order in the state". "Bihar's law and order situation is in a bad shape. The government does not have control over the police," NDTV quoted Gopal Narayan Singh as saying.
Opposition leader and RJD president Tejashwi Yadav put out a tweet: "Criminals protected by powerful people killed Rupesh Kumar Singh. It is the criminals who are running the government in Bihar."
Janata Dal United MP Sunil Kumar Pintu said, "Chief Minister Nitish Kumar is committed to maintaining law and order, but nothing will change on the ground unless the bureaucracy gets its act together."
There have been reports of a widening rift between BJP and the JD (U) ever since the NDA came back to power in October, though the BJP managed to win more seats than its ally. However, the BJP did not block Nitish Kumar's path towards becoming the CM, fulfilling its pre-poll promise.